Uruguayan Independence Day in New York City
Thursday, August 27th 2009 - 15:56 UTC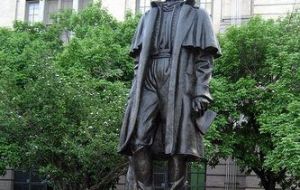 For many Uruguayans living in the New York area, the 25th August is not only an important day to remember their origins, but also a day to meet old and new friends, alike.
This year's ceremony was also attended by members of the diplomatic community and several visiting Uruguayan officials, supporting Uruguay's efforts at the United Nations.
On this sunny day, next to the statue of Uruguay's National Hero, General Artigas, a normally happy day in the annual calendar of events was sadly "shadowed" by a discreet disapproval of the "politicizing" of this important day, by the presence of a wreath from the Frente Amplio.
In the many years since the statue was erected in New York, many attendees were not aware of any political party having "colored" an Independence Day ceremony with an individual wreath, as ALL Uruguayans were symbolically represented by the Uruguayan flag and a wreath from the Uruguayan Consulate.
This type of political demonstration is inappropriate and can only remind Uruguayans of what can separate a society and a nation.
This is a day that should remind Uruguayans of what they can achieve together, and under one representative symbol.
by David P. Michaels - Bureau Chief, MercoPress
First Vice President, Foreign Press Association, New York