Chilean president Bachelet approval rating remains steady at 73%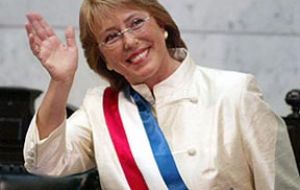 An overwhelming majority of Chileans, 73% approve of the way that President Michelle Bachelet is handling her responsibilities, says a new Adimark poll taken in August.
The President's approval rate has remained the same since last June, demonstrating a very high level of public support for the president. It is also the highest level of support received by any of the past three presidents of the governing Concertacion party (since 1990).
The poll found that much of Bachelet's support has to do with the way she handled the economic crisis and with her personal charisma.
Approval for Interior Minister Edmundo Pérez Yoma, however, dropped by nine points, from 48% in July to 39% in August.
This was attributed to the manner in which Perez Yoma has handled the Mapuche conflict in the Araucanía (Region IX) and his subsequent questioning by the House of Representatives regarding arms purchases made while he served as Defence Minister during the government of Eduardo Frei.
The survey was conducted by telephone interviews with 1109 people and has a 3 percent margin of error.
By Gida Homad-Hamam - Santiago Times