Air Seychelles begins operating Brize Norton-Falklands Air Bridge
Thursday, January 28th 2010 - 05:32 UTC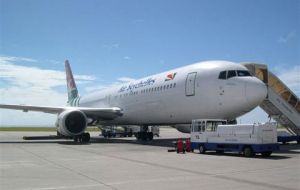 Seychelles President James Michel has welcomed the announcement by Air Seychelles that it has begun operations to the Falkland Islands as part of a contract with the UK Ministry of Defense.

In a statement, President Michel noted that "The fact that Air Seychelles has won the contract for these services is a mark of the high standing of our national airline and the professionalism and dedication of its staff".

He also noted that in the increasingly competitive international airline market, it is encouraging that Air Seychelles is also seeking to adopt innovative business practices beyond its core business: "Innovation is key to Seychelles being ready for the future, and we congratulate Air Seychelles for taking the lead in this way".

Air Seychelles successfully bid for the contract after the UK Ministry of Defense had to seek a replacement for the previous operator who had to stop flying due to bankruptcy. Several other prestigious airlines bid for the contract, but Air Seychelles was successful due to its experience with Boeing 767s and flying to island locations. The length of the contract will be finalized in due course, but it is expected that the agreement will significantly improve revenue flows and therefore the airlines perspectives for 2010.

A press release from Air Seychelles said that one of the company's B767-300ER on Sunday 24 January 2010 commenced the South Atlantic Airbridge on behalf of the UK Ministry of Defense from RAF Brize Norton in Oxfordshire, England to Ascension Islands and then onto the Falkland Islands.

Both Ascension Islands (Wide Awake Airfield) and RAF Mount Pleasant in the Falklands are isolated airfields. Given that Mahe is also considered an isolated airfield with no nearby suitable alternate aerodromes the operational experience of Seychelles flag carrier has played heavily in the airlines favor in the selection process.

Likewise being one of the world's most experienced B767 operators with over 20 years extended range operations and having a meaningful fleet of aircraft, Air Seychelles was considered the best choice.

To enable this operation to be effectively conducted one of the airline's five B767's, a B767-300ER will be permanently based in the UK to carry out the twice weekly service to Ascension and onwards to the Falklands. Crews have been positioned in Ascension and the UK concludes Air Seychelles release. (APO).