Chile's tourism industry fears long term effects of quake and aftershocks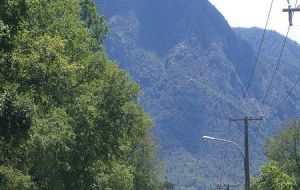 The tourism industry in Chile has been hit hard as travellers cancel trips to the disaster-struck country. Since the 8.8 magnitude earthquake hit Saturday, Andes Hostel in Santiago has received five to six cancellations per day, an employee told the Santiago Times.
The hostel suffered minimal damage and all utilities are functioning. Even so, international guests from Brazil, Argentina, Peru, and the US have cancelled reservations. Staff said other hostels in Santiago are encountering the same difficulties and predicts the next two weeks, at least, will be hard on business.
Tourist hot-spot Pucon, a city nearly 500 miles south of Santiago, has not suffered damage but hostel owners have also experienced cancellations. Tourism companies are asking people not to cut their trips short.
The US government issued warnings to US citizens to avoid tourism and non-essential travel to Chile – warnings that tourism leaders say are exaggerated and unwarranted.
Joel Martinez, co-owner of the Bicicleta Verde bike touring company in Santiago, said travel alerts issued by TripAdvisor or the US Government will only harm tourism in the country, much of which is still operating under normally conditions, despite the images seen in the media.
Martinez said it is important for people and businesses to unite and show foreign countries that Santiago – as well as destinations in northern and southern Chile – are all well and working.
Since the earthquake, Bicycleta Verde has had 10 cancellations, and received emails from people who have since cancelled future trips to Chile.
Operations manager Mac Mitchell said travel alerts have advised people not to travel to Chile up until April. Mitchell emphasized that although aftershocks can be felt in Santiago, the city is not damaged significantly like in Concepcion.
"Santiago didn't experience the same things [as Concepcion], after the earthquake, utilities returned soon after. In the main tourist areas, everything is up and running," he said.
In the centre of the city, supermarkets are open and stocked, gas stations are open, and there is no threat to fuel shortage, he added.
Concepcion is not a usual tourist destination, the areas that people generally travel to — Easter Island, Santiago, Pucon, Patagonia, are all fine, he said.
Organic vineyard Huelquen, 30 miles south of Santiago, suffered damage to their winery from the earthquake, but is still running a Bicicleta Verde bike and wine tour this Saturday.
Mitchell said the travel industry is vital to the nation's economy and that getting tourists to come to Chile is the best thing that could help.
"Come to Chile... Support the tourism industry and help rebuild with us," he said.
By Laura Burgoine - Santiago Times