Blackout Hits Most Of Chile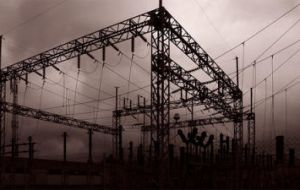 Transformer failure blamed as much of the country goes dark.
A blackout blamed on a fault in Chile's Central Interconnected System hit nearly all of Chile around 8:50 p.m. local time Sunday night.
Within an hour, parts of Santiago came back online, but much of the country - from the Atacama region in the north to Puerto Montt in the south - remained in the dark several more hours into the night.
As the national emergency service, ONEMI, worked to restore power and explain the mass electrical shortage, the government said it could be at least three hours before power was restored.
Interior Minister Rodrigo Hinzpeter told the press shortly after 10 p.m. local time that the failure of a transformer in Temuco was behind the cut and that specialists and technicians were working to fix the problem. Most importantly, he said, "We ask people to maintain calm. It's only an electrical shortage, unrelated directly to an earthquake."
Although the government said power should be restore within a few hours, Hinzpeter said they "cannot anticipate a specific timeframe. We are working very hard to make that happen as soon as posible."
President Sebastian Pinera was seen entering La Moneda, the government building in Santiago, as government teams were called to deal with the situation.
Sunday night, Santiago's metro stations closed down, although some reopened within two hours, and residents still without power crowded around radios, an image similar to the early hours of February 27, when the country was hit by an 8.8-magnitude earthquake, plunging many parts of the country into darkness.
Pinera and his ministers have only been in office since Thursday, and the last three days have been overwhelmingly preoccupied with dealing with the quake's aftermath. More than 500,000 homes were destroyed, even more will have to be demolished, and much of the infrastructure in the center of the country is in need of repair.
Sunday's blackout also covered communities such as Concepcion and Talcahuano, where power had only been restored in part recently. Military personnel remained in the area, which was plagued by widespread looting following the earthquake two weeks ago.
So far, no reports have been made of serious incidents related to Sunday's blackout.
The metro service said it anticipated being completely functional by Monday morning.
Meanwhile, the government has asked residents to stay in their homes and unplug electrical equipment.
By Eva Salinas - Santiago Times