Peru and Chile Will Lead Latam Expansion in 2011 with 6% Growth Each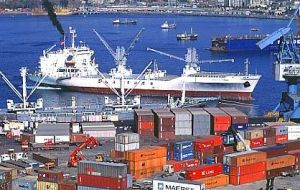 Latest forecasts from the International Monetary Fund (IMF) predict Chile and Peru will lead Latin America's growth in 2011 with an expansion of 6% each. The IMF released its World Economic Outlook Report on Wednesday, upping Chile's projected growth from 4 to 4.7%.
The IMF estimates that reconstruction efforts and higher commodity prices in Chile will increase the country's GDI.
An economist for Chile from HSBC Bank, Jorge Morgenstern, said to reach the predicted 6% in 2011 Chile is relying on the second part of this year being very good, producing a "statistical carry" for the next year.
Chile's Central Bank expects a rise in investment of 14.8% in 2010.
Gustavo Cañonero, Deutsche Bank, said Chile has already seen positive signs and the IMF projections seem realistic. "There's a very strong recovery throughout the region," he said. However, while the momentum will be stronger next year because of reconstruction, there remain doubts as to how to move forward beyond that point.
According to the IMF, Chile's growth rate will slow in 2012, yielding to Peru and Mexico. By 2014 to 2015 Chile's GDI will recover, its growth having been 4.5% in both years.
Under new president Sebastian Piñera's leadership the Chilean government is aiming at an average 6% GDI.
The IMF report predicts that Chile and Peru will lead the GDI increase in 2011, followed by Paraguay, with 5%, while Mexico will grow 4.5% and Brazil 4.1%. For Latin America as a whole, the IMF raised its forecast for 2010 from 3% to 4.1%, with 4% anticipated in 2011.
This year, Peru will have the largest expansion in Latin America, with 6.3%, followed by Brazil with 5.5%. Worldwide expansion rates will rise to 4.2% this year and 4.3% in 2011.
At least until 2015, Chile will be the sixth largest economy in South America, measured by the size of its GDP, following Brazil, Mexico, Argentina, Venezuela and Colombia.
The IMF said the GDP this year would total 196 billion USD, making Chile 45th in the world economy. By 2015, the country will advance to place 42 in the global ranking with a GDP estimated at 282 billion, the IMF reported.
By Laura Burgoine – Santiago Times