Colombia Conditions Vote for the UNASUR chairman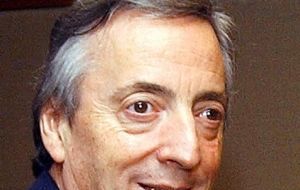 Colombian Foreign Affairs minister Jaime Bermúdez Merizalde said Friday that before the standing chairman of the Union of South American Nations (UNASUR) is decided, Uruguay and Argentina must solve their differences.
UNASUR is scheduled to meet next week in Buenos Aires and the strongest candidate for the post is former Argentine president Néstor Kirchner with the support from Venezuela and Ecuador, among others.
"There's still not official formal proposal on the issue; Colombia has stated that what is important is achieving full consensus, so that those difficulties still pending between Argentina and Uruguay can be definitively solved," said Bermúdez currently on an official two day visit to Israel. "If that is so, obviously Colombia will support that possibility," said Bermudez in reference to Mr. Kirchner's candidacy.
The nomination of UNASUR chairman is one of several points in the agenda of the group's summit scheduled for next week in Buenos Aires. Although Argentina and Uruguay have promised to "re-channel" their strained relations, there are still difficulties to overcome mainly lifting pickets blocking an international bridge linking the neighbouring countries. The pickets have been protesting since 2006 the construction on the Uruguayan side of a pulp mill they allege is highly contaminating.
Last year, Uruguay's former president Tabaré Vazquez vetoed Mr. Kirchner's candidacy to express Montevideo's disappointment with Buenos Aires' lack of political will to liberate the bridge of pickets.
However since last March the new Uruguayan President, José Mujica, has adopted a more conciliatory and pragmatic attitude, besides having a close rapport with the Mr. Kirchner and his wife Argentine president Cristina Fernández de Kirchner.
A recent judgement from the The Hague's International Court of Justice said the pulp mill does not contaminate and exonerated Uruguay of any possible compensation or major breach of a 1975 bilateral treaty for the joint management with Argentina of the river Uruguay and its waters.
Jaime Bermúdez said that overcoming this difference and Uruguay's position regarding Mr. Kirchner's candidacy is essential because "we can't launch an organization without having all countries synchronized on such a possibility".
UNASUR is made up of Argentina, Brazil, Bolivia, Chile, Colombia, Ecuador, Guayana, Paraguay, Peru, Surinam, Uruguay and Venezuela.
In Montevideo, government sources have said they will not unveil Uruguay's position on Mr. Kirchner's candidacy until the very day the vote is taken, but also recalled that UNASUR as such does not officially exist since its statutes have only been approved by a couple of its members.