Buenos Aires City Mayor Macri Prosecuted for Alleged Illegal Wiretappings
Saturday, May 15th 2010 - 04:05 UTC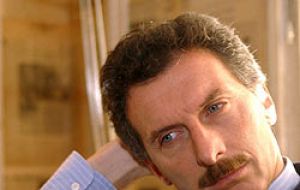 Buenos Aires City mayor Mauricio Macri and a former city Education Minister, Mariano Narodowski were prosecuted Friday on charges of illegal wiretappings. Federal Judge Norberto Oyarbide also seized 250,000 pesos from the mayor for considering the case a conspiracy.

Mauricio Macri criticized the judge, as he assured that "before the case began, the prosecution had already been written." He also said, along with Deputy Mayor Horacio Rodríguez Larreta, that his government is to present an appeal and that they have not ruled out the possibility of impeaching the judge. "This government is ready to fight," the mayor affirmed.

Macri's declarations were made in public during a rally held in a Buenos Aires neighbourhood. He also criticized the judge and once again held the government of President Cristina Kirchner responsible of a "political manoeuvre," specifically linking former president Néstor Kirchner with the case.

"Thankfully, we count with the support of the people and we're putting at risk Néstor Kirchner's ability to not continue in 2011, even though he wants to stay for another 20 years," Macri highlighted.

The magistrate summoned Macri, Narodowski, and another city official Montenegro at 8pm to make his prosecution order official.

Mayor Macri said that he will dedicate next Monday to read the arguments before announcing the steps he will take, although he confirmed he is to present an appeal. Also, he did not rule out the possibility of impeaching the judge.