Buenos Aires City Mayor fined for riding a motorcycle without a helmet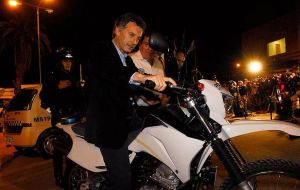 Buenos Aires City Traffic Safety Committee confirmed that City Mayor Mauricio Macri has been fined for having ridden on a motorcycle without a helmet.

"We fined Mauricio Macri," said Pablo Martínez Carignano, the head of the Traffic Safety Committee, when speaking on a radio program.

He added that the fine will be sent to a traffic agent, who will then summon the City Mayor unless the fine is paid voluntarily.

"The law establishes fines for those who drive or ride on motorcycles without a helmet," he said, adding that "the driver in this case should not have allowed him to ride."

Macri rode without a helmet because he was summoned by the courts to explain his petition to prosecute Federal Judge Norberto Oyarbide and, according to the mayor himself, he "was running late" because of the traffic.