Euro-zone rates unchanged; strong ECB support for budget austerity measures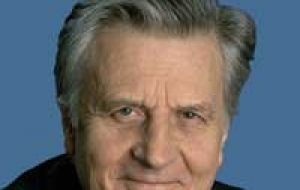 The European Central Bank kept interest rates in the Euro zone at 1% on Thursday as expected. June was the thirteenths month running that rates have been left on hold. ECB also supported the recent budget deficit cuts announced by several EU countries.

After the policy meeting, European Central Bank President Jean-Claude Trichet said that economic recovery took hold in the Euro zone in spring, but renewed tensions in some financial market segments pose risks.

The ECB raised its forecast for growth in the Euro area for this year, but lowered its forecast for 2011.

"Looking ahead, we expect the euro-area economy to grow at a moderate pace, in an environment of continued tensions in some financial market segments and of unusually high uncertainty" Trichet told a news conference.

Following the announcement the Euro rose to fresh multi-day highs against the US dollar, Swiss franc and the Japanese yen.

The last change in the interest rate was in May 2009, when the bank cut the rate by 25 basis points to the current level of 1%. ECB had lowered the key interest rate by a total of three and a quarter percentage points since early October 2008. The central bank also maintained interest rates on marginal lending facility and deposit facility at their current levels of 1.75% and 0.25%, respectively.

In his press conference Trichet the commitments by EU finance ministers to take immediate action to address budget deficits, describing it as "essential".

The ECB's policy committee meeting was unusually attended by EU monetary affairs commissioner Olli Rehn, who also attended the Euro zone finance ministers meeting.

Most EU governments have anticipated they will introduce measures to cut budget deficits this year or in 2011. Spending cuts and tax rises are expected to cool Euro zone growth and inflation, meaning the ECB can keep interest rates low.

Mr Trichet said inflation should remain moderate, but identified possible rises in VAT rates and the rising price in Euros of commodities as risks.

The ECB forecasts Euro zone inflation of 1.4%-1.6% for 2010, a slight upward revision from its March forecast. It also predicts growth of 0.7%-1.3% this year, also revised up.

Trichet also announced that the ECB would continue to provide a three-month lending facility for banks until September. The longer-term loans were originally made available to banks during the 2008 global financial crisis, to ensure they did not run out of cash.

However, since the Greek sovereign crisis, the ECB has been postponing its plan to phase out the special facility this year.

The ECB president refused to provide more details on the central bank's new government bond-purchasing program. ECB began buying up government bonds in response to the recent Greek financial crisis. The purchases mean that the central bank is now exposed to the risk of default on these bonds, including Greek bonds that have a "junk" credit rating.