Venezuela suspends power rationing in the eve of the World Cup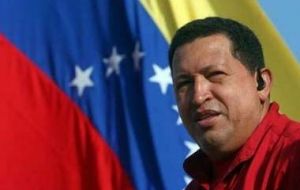 Venezuelan President Hugo Chavez suspended a national electricity rationing plan, saying that the grid had been strengthened by new investments in thermoelectric plants and heavy rains that filled up reservoirs. He also wants Venezuelans to watch the World Cup in South Africa.

production, he said today on state television.

"I feel a great spiritual relief because I suffered through these measures that we had to take," Chavez said. "This shows our capacity to confront crisis after crisis."

The rationing began in January as the government ordered a 20% reduction in electricity consumption amid a drought that threatened to dry up hydroelectric dams and collapse the power grid.

Venezuela's economy contracted 5.8% in the first quarter as some stores were forced to close several hours day and metal processing plants suspended operations.

Chavez said the government will spend 4 billion USD this year to install more than 5,000 megawatts of generation to avoid future problems.

Venezuelan Electricity Minister Ali Rodriguez said that the government will progressively restore power supply to the country's largest steel mill, Siderurgica del Orinoco, and aluminum producers that form part of the state-run heavy industries holding company Corp. Venezolana de Guayana.

Water levels at the Guri dam, which supplies hydroelectric plants that produce more than two-thirds of the country's power, have risen during the rainy season after sinking to within 8 centimeters of an operational collapse.

Chavez, who has purchased generators from General Electric Co. and Mitsubishi Corp. this year, said the rationing is also being lifted to ensure that Venezuelans can watch soccer's World Cup tournament that begins Friday in South Africa.