Wednesday,
June
30th
2010
- 06:09 UTC
Argentina: Héctor Timerman defiantly calls himself a Peronist and a "Kirchnerist"
Timerman's portfolio to be strengthened by his special ties to Kirchners. Timerman brings rare gifts of strength of character and intellectual preeminence to his new job.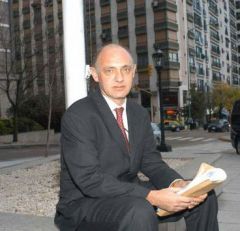 Argentine Foreign Minister Jorge Taiana resigned from his position several days ago after allegedly having a dispute with the President of Argentina, Cristina Fernández Kirchner. The disagreement was largely centered, not so much on the way that foreign policy was being conducted by Buenos Aires, but particularly in reference to Argentina's role in the "pulp-mill crisis."
In the 1970s, at a meeting of hemispheric foreign ministers in Mexico City, Henry Kissinger, who was in attendance at the gathering, offered the random observation that of all of the chancellors who were in attendance, the most brilliant of them all was Jamaica's Dudley Thompson. If asked the same question today, his candidate might very well have to be Héctor Timerman, who has just been selected as Argentina's new foreign minister and is one of his country's most peerless, wise figures and the forceful protagonist of a dynamic democratic regional policy.
To all those who have known him, Timerman's major basis of self-identification was his devotion to and unqualified loyalty to the Kirchners, particularly to Cristina Fernández. On one occasion, he interrupted a meeting at the embassy regarding U.S.-Argentine relations when a call came in from the Casa Rosada. One could divine in the course of this call the intensity of Timerman's devotion to her, yet at the same time the sense of independence and integrity in which he responded to the questions she raised and the advice she was seeking. A fierce Argentine nationalist, yet someone who has a uniquely high quality of a developed presence of mind and a sense of fair play, Timerman must be considered one of the most singular members of his generation.
The conflict between President Kirchner and Taiana has its origins in 2003 when the construction of a pulp-mill was being undertaken in the town of Fray Bentos on the Uruguay River, which runs through Argentina, Uruguay, and Brazil. At the time, the Spanish owned company, ENCE, was slated to build the mill but in 2005, Botnia, a Finnish pulp-mill company wanted to develop its own plant in the same general area. Concerned about the negative environmental consequences the facilities would have upon the area, a blockade was launched against both companies.
Argentine activists living in Gualeguaychu, a nearby town, claimed that the pulp-mill process would pollute the water. Protesters decided to block the highway route that went from Gualeguaychu to Fray Bentos. This also affected MERCOSUR-related trade in the area, as well as that year's tourist season. The conflict continued for several months, with Greenpeace becoming involved, as well. In 2006, the government of Argentina decided to take its case to the International Court of Justice (ICJ) in The Hague where it accused Uruguay of violating the terms of the bilateral treaty regarding the Uruguay River aimed at protecting and conserving the border-river. However, although there has been much discussion and a wealth of research being done on whether the facility could pollute the area, the plant would have also resulted in a great deal of investment and a large number of jobs for Uruguayans.
The conflict between Argentina and Uruguay involved several sharp exchanges of positions between the former presidents of Argentina and Uruguay, Néstor Kirchner and Tabaré Vásquez, respectively. After many allegations, reports and investigations by the World Bank and the OAS, the ENCE-owned mill eventually moved southward away from the Uruguay river, though Finnish Botnia remained. As of April of this year, the Botnia mill in Fray Bentos was allowed to continue operations. Just before his resignation, Argentine Foreign Minister Jorge Taiana called upon Gualeguaychú activists to lift the ongoing picketing of the bridge and its environs. Presidents Cristina Fernández and José Mujica, the current President of Uruguay, met a few weeks earlier to discuss the ending of the blockade, which was finally recently lifted.
According to a Buenos Aires daily, Clarín, Foreign Minister Taiana was interviewed this past Thursday on the meeting between Cristina Fernández and Mujica over the environmental situation on the Uruguay River. Taiana suggested that the two presidents had agreed that Brazil would monitor the Botnia mill (which originally was Mujica's idea). Right after this press conference, Fernández accused Taiana of being disloyal to her by releasing this erroneous information to Clarín and claimed that she could not trust him anymore. In response, he resigned. The whole issue, however, remains unclear.
President Fernández has had an ongoing, turbulent relationship with the Clarín Group, particularly now that the director of that media conglomerate is being investigated for possibly having raised children of "disappeared" (murdered) leftist victims of the Dictatorship. What is especially relevant regarding Taiana's resignation is that he has become yet another of a number of political casualties of the Kirchners administrations. Due to the unanticipated resignation of former Central Bank President Martín Redrado, and now Taiana's, Mrs. Kirchner is being accused by the opposition press of being a "populist" more than a person of gravitas. Conservative newspapers like La Nación are claiming that, due to what her critics describe as her arrogance, "it is either Cristina's way or the highway."
Taiana's departure could be a sign of either internal bleeding within the government or just another mean-spirited barrier that her opposition has created. Under Cristina Kirchner's leadership, Argentina has a much stronger role to play within the Latin American political process and even on a worldwide basis. She has formed very strong ties with Hugo Chávez, opposed Great Britain's oil drilling efforts in the Falkland Islands in the South Atlantic, and her husband, former president Néstor Kirchner, is now Secretary General of the new trade and policy block UNASUR, which is likely to play a growing role in the region.
The new Foreign Affairs Minister will be Héctor Timerman, who, until recently was the highly successful Argentine Ambassador to Washington DC. He has vowed that Argentina's foreign policy will follow the lines that the national government decrees. Timerman defiantly calls himself a Peronist and a "Kirchnerist." One can be certain that the presidential family will be able to turn to a practiced hand to play the role of both a goalie and a striker when it comes to conceptualizing a winning strategy and then kicking the ball squarely into the goal. In carrying out his game plan, Timerman will be able to call upon his many associates around the world who, over the years, have come to admire and respect his acumen and his principled stance on issues of serious social and diplomatic concern. Timerman ultimately will be another factor that is sure to affect the Kirchners' prospects in next year's presidential election, which will witness Néstor's turn to once again stand for the presidency, or perhaps Cristina's bid for re-election.
by COHA Research Associate Azul Mertnoff