Argentina prepares to begin drilling in Malvinas basin in second half of 2010
Thursday, July 1st 2010 - 07:08 UTC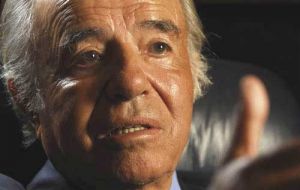 Towards the end of the year Argentina's YPF in association with Pan American Energy and Petrobras will begin exploring for oil in the Malvinas basin, following the contract for an oil rig which has been signed, according to oil industry sources in Buenos Aires.

The high risk operation will be under control of YPF which holds a 33.5% stake in the operation while Pan American Energy has another 33.5% and Petrobras, 33%.

The initial outlay for this coming summer's drilling including the provision of supplies is estimated in 150 million US dollars.

In the so called Malvinas basin at different times "a total of 20 wells have been drilled, of which five showed signals of hydrocarbons presence and two of them in significant volumes but not sufficient to sustain a commercial exploitation".

According to the reports the area where the oil rig is to operate is to the southwest of the Falklands/Malvinas, next to the former Falklands/Argentina Hydrocarbons Cooperation zone, which was agreed in September 1996 following the so called New York Act.

The understanding was agreed under the administration of former president Carlos Menem and his Foreign Affairs minister Guido di Tella.

However in 2007 former president Nestor Kirchner, the husband of Cristina Fernandez de Kirchner, disavowed the joint oil exploration agreements.