Argentina/Uruguay towns celebrate first month with no pickets
Tuesday, July 20th 2010 - 03:25 UTC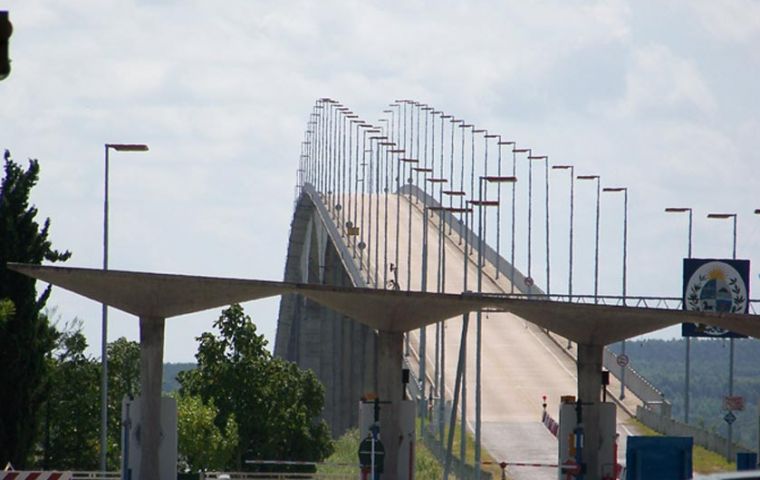 The Argentine city of Gualeguaychú and Fray Bentos across the shared River Uruguay celebrated Monday the first month of the end to pickets that since 2006 had impeded traffic and trade across the international bridge linking the two neighbouring locations.

The pickets on the Argentine side were organized to protest the building on the Uruguayan side of the river, next to Fray Bentos, of the Botnia/UPM pulp mill one of the largest private sector investments in the country in decades.

Since the lifting of the pickets thousands have crossed both ways and transport and bus companies are beginning to normalize their schedules.

The so called 'Gualeguaychú assembly" of residents and environmentalists argue that the pulp mill in spite of having been built to the highest European Union standards contaminates and is a threat for the regional water and air habitat.

This led to a prolonged, irritating diplomatic dispute between Argentina and Uruguay which ended only a few weeks ago when the International Court of Justice at The Hague ruled that given the current measurement parameters, the plant did not pollute but pointed to Uruguay for not having informed Argentina of the construction of the pulp mill, following on a statute for the joint management of the water course dating back to 1975.

The Court also recommended both countries agree on a joint monitoring of the River Uruguay which the two governments are in the process of elaborating.

With the open bridge business delegations from both sides met Sunday in Fray Bentos to re-launch relations and agreed to a second meeting in Argentina to decide on an agenda that includes cultural, sports and tourism activities.

Meantime in Montevideo late Monday it was announced that Foreign Affairs minister Luis Almagro will be travelling to Buenos Aires to meet with his counterpart Hector Timmerman to advance in the exchange of proposals for monitoring the River Uruguay.

According to the Argentine Foreign Affairs communiqué Timerman will propose a two stage approach: monitoring the Botnia/UPM plant and any possible consequences on the water course because of its activities, and in a second phase decide how to control and prevent contamination all along the River Uruguay which acts as a natural border between the two countries and is straddled with urban populations, factories and intensive farming.

The time table of the conflict stalled since 2006 found a way out on April 20 with the ruling from the International Court of Justice.

On June 2 presidents Jose Mujica and Cristina Kirchner agreed on a road map, and on June 19 the Gualeguaychú assembly ended pickets, --for two months--, waiting for actions from both governments.

On June 29, Timerman presented Uruguay the Argentine proposal for monitoring the river and on July 5 Uruguay responded. This week's ministerial meeting should anticipate when and how the monitoring is going to take place.