Brazilian opposition links ruling party with FARC guerrillas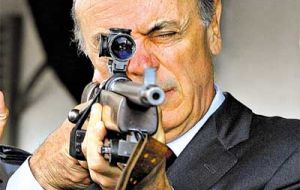 Brazil' presidential campaign has become increasingly controversial with opposition candidate Jose Serra claiming close links between the Colombian guerrillas' FARC and President Lula da Silva's ruling Workers Party.

"Everybody knows about links between the Workers party and FARC (Colombian Revolutionary Armed Forces)", said Jose Serra this week.

Serra came out in support of his ticket companion, Indio da Costa who earlier in the week accused the Workers Party of links with FARC and "the narcotics trade".

FARC originally a Marxist inspired rebel group for the last two decades it has been closely associated and working as back up for the Colombian drugs' cartels, charging for its services.

However Serra was careful not to link the Workers Party with the drugs trade: "FARC are linked to narcotics, but this does not mean that the Workers Party is involved in the drugs trade".

Jose Eduardo Dutra, the Workers Party president notified the Brazilian Supreme Court of the allegations and promised to take the opposition presidential ticket to court for defamation.

"We consider the claims of the utmost gravity", said Dutra.

Workers Party presidential candidate Dilma Rousseff said she would not lower "the campaign to the dirt level" and strongly rejected the allegations.

"I never expected that faced with desperation, adversity, my opponent would appeal to such an attack. For me it is unthinkable such a level of mud slinging campaign. We're not going to fall into that trap", said the former cabinet chief of President Lula da Silva.

The Workers Party in 1990 started what was identified as the Sao Paulo Forum, an organization which brought together left wing organizations in Latin America and also included Colombian guerrilla groups such as FARC and ELN.

However in 2005 and with Lula da Silva in office, and on the celebration of the fifteenth anniversary in Sao Paulo, the Forum decided to limit access only to legal parties which meant leaving out all guerrilla movements and groups.

With President Lula da Silva enjoying an unprecedented support of 82% and his candidate, Ms Rousseff steadily advancing in voting intention polls, it's hard to see Mr. Serra's tactic, be it not to contain the excess of his vice-presidential candidate.