Colombia insists on a reply to its claims of Venezuelan tolerance with guerrillas
Saturday, July 24th 2010 - 05:23 UTC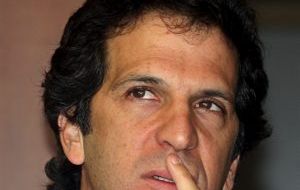 Colombia insisted Friday that no reply has been given yet to "the heart of the matter" in the diplomatic row with Venezuela and those are the claims of 'tolerated' Colombian guerrilla presence in Venezuelan territory. Bogotá also recalled that all mediations and dialogue proposals so far have been "unfruitful".

"Colombia considers that there is so far no reply to the heart of the matter", said in a brief encounter with the press Colombian Foreign Affairs minister Jaime Bermúdez who requested a "specific mechanism" to help re-establish relations with Venezuela, and "not a simple dialogue".

As to the mediation "specific proposals" which have been emerging lately, Bermudez said that Colombia has always been open to dialogue and even had an "exchange of opinions" directly with Venezuela, and at that moment called on Spain and Cuba to help with the situation.

Bermúdez added that Colombia "accepted and promoted" the mediation offered by the president of the Dominican Republic Leonel Fernández, that allegedly was rejected by President Chavez.

All these efforts and attempt have been "unfruitful" and that is why Colombia decided to appeal to the "corresponding international instances", who insisted that a specific mechanism is needed "to solve the heart of the matter".

And this is the reiterated claims by Colombian that Venezuela has given refuge to an estimated 1.500 guerrillas belonging to the Colombian Revolutionary Armed Forces (FARC) and to the National Liberation Army, ELN, as well as some of their leaders.

Colombia at this week's OAS Council meeting presented photos, videos, films and other alleged evidence of the Venezuelan government tolerance towards the 1.500 strong force which routinely attacks the Colombian army from across the border.