More Cubans to become self-employed or allowed to set up small business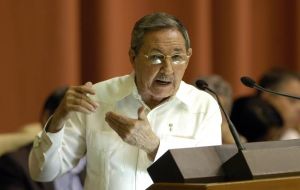 Cuban President Raul Castro is not planning to make large-scale market reforms to revive the communist island's struggling economy. But Mr Castro said the role of the state would be reduced in some areas, with more workers allowed to be self-employed or to set up small businesses.

Urgent measures would aim to cut the "overloaded" state payroll, he said. Speaking to Cuba's National Assembly, Mr Castro nonetheless insisted the socialist system was "irrevocable".

He was conscious that the Cuban people expected measures to pull the country out of a deep economic crisis, the president told the assembly. Castro said some restrictions on issuing licenses to small businesses would be lifted, and they would also be allowed to employ staff.

Castro, 79, also warned that unproductive or under-employed workers in the state sector would have to find other jobs.

"We have to end forever the notion that Cuba is the only country in the world where you can live without working," he said. However he rejected reports in the foreign press that had suggested he had been planning economic reforms based on "capitalist recipes".

He also dismissed speculation that there were conflicts in the Communist Party leadership over the pace and depth of change, insisting the unity of the revolution was "stronger than ever."

In his speech, the Cuban leader also made his first public mention of his decision to release of 52 jailed dissidents.

Mr Castro said none of the prisoners had been jailed for their ideas, but had committed "counter-revolutionary" crimes in the service of the United States.

"The revolution can be generous because it is strong," he said, adding that there would be "no impunity for enemies of the fatherland".

Cuba's state-run economy has been gripped by a severe crisis in the past two years that has forced it to cut imports. It has suffered from a fall in the price for its main export, nickel, as well as a decline in tourism.

Raul Castro became Cuba's leader when his brother, Fidel Castro, was forced to step aside because of ill-health in 2006.

In related news the Tourism minister Manuel Marrero announced that next January Cuba begins negotiations to build 16 golf courses with foreign investors and the sale of houses in those secluded compounds to foreigners.