Uruguay's exports in seven months increase 23% and reach 3.9 billion USD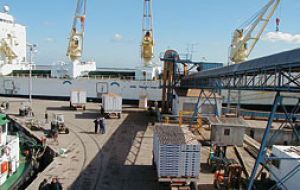 Uruguayan exports increased 22.78% during the first seven months of 2010 compared to the same period a year ago, according to Uruguay's Union of Exporters. Sales totalled 3.9 billion US dollars while in the seven months of 2009, they reached 3.2 billion USD.

Imports in the same period totalled 3.65 billion US dollars which represents a 33.2% increase over the first seven months of 2009.

Among the country's ten leading markets, the Russian Federation emerges with a 100% increase (mainly beef exports) while sales to Portugal soared 365%. Nevertheless Portugal only represents 1.02% of Uruguay total overseas sales.

Brazil remains as the main market for Uruguayan exports with 18.69%, followed by the free zone of Nueva Palmira, 11.91%; Argentina, 7.03%; China, 6.31%, with sales soaring 88% compared to 2009 and Russia with 5.5%. Sales to UK contracted 17.4% in the first seven months of 2010.

Nueva Palmira is a free port which handles much of the country's grain, pulp and minerals exports, which therefore makes China a far more important trade partner than what figures in the official statistics.

The main export items in US dollars were meats and offal, 19%, followed by soy-bean, 16% and cereals, 9%. Considering physical volume, wood and coal, followed by soybeans were the leading items.

Regarding the main increase in exports over the same period a year ago wood and coal lead with 81%, followed by soy beans, seeds and oil, 79%; automobiles, 79% and rubber goods, 79%.

Uruguay's exports in July reached 615 million US dollars, 16% higher than a year ago.