Monday,
August
9th
2010
- 07:26 UTC
Gibraltar: Between a Rock and a hard place
La Linea de la Conception is a small Spanish town on the North side of the border with Gibraltar. The fascist dictator Francisco Franco sealed the frontier in 1969 to punish Gibraltar for rejecting his offer of becoming part of Spain.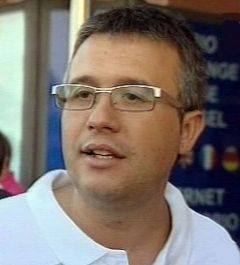 The border was not fully reopened again until 1985, almost ten years after Spain's transition to democracy. Prior to that many Gibraltarians lived in Spain and Gibraltar's dockyard provided thousands of jobs for the people of La Linea.
The closure brought hardship to Gibraltar, but even more to the Spanish town where unemployment was rife. Fast forward to 2010, when Gibraltar has a booming economy based on tourism and the Internet rather than the military base and again provides thousands of jobs to Spaniards struggling with the recession, and massive unemployment.
A recent report by Dr John Fletcher of Bournemouth University showed Gibraltar provided 18% of the total 102,468 jobs in the adjoining area, and that Gibraltarians spent some 63 million pounds in Spain in 2007.
But times are hard for La Linea's mayor, Alejandro Sánchez, he cannot afford to pay council workers, who are protesting in the streets. Quite what became of the towns money is a mystery, the former mayor resigned and was arrested. But the new mayor has a solution, in third word countries when the police are not paid; they set up a road block and charge passers by. Envious of the prosperity the other side of the border Sánchez plans to extort a toll from tourists crossing the national border. He says Gibraltar residents, like those of La Linea and frontier workers, would be exempt from any charge.
Of course the Spanish Government has other ideas, as does the EU regarding freedom of movement, but despite being summoned to Madrid by Miguel Angel Moratinos and told not to, the mayor is adamant that he will introduce it. All the cars leaving Gibraltar would be required to drive through his toll gate. He was also reprimanded for ordering the local police force to halt vehicles crossing into Spain and carry out document checks, an act that caused long delays and was labelled as "harassment" by Gibraltar's government. This was seen as a 'trial run' to see how his Government would react.
Another 'bright idea' is to try and tax telephone lines which he says pass through his town and are used by successful offshore betting companies based in Gibraltar, like William Hill and Ladbrokes.
Sanchez, a member of the right-wing Popular Party claims that the socialist government in Madrid has sacrificed the town of La Linea's interests, favouring Gibraltar, to ensure good relations with Britain. The 'favours' obtained under the 2006 Cordoba agreement included Spain promising not to obstruct traffic at the frontier and to stop blocking telephone calls and flights.
The association representing Spanish workers in Gibraltar ASCTEG are strongly against his move, and in a press release say that "12 thousand mouths eat from wages earned on the Rock and nobody should interfere with the border"
The new rearrangements will be begin as from this week, Sanchez has said, and that the move was "not a bluff" Quite apart from the controversy of charging visitors, the process of checking cars on their way out could slow down frontier traffic and cause tailbacks into Gibraltar.
"It would create a gridlock," one senior official said
Gibraltar was seized by the British in 1704, and ceded by Spain in 1713. Anglo-Spanish attempts to push the idea of co-sovereignty were overwhelmingly rejected by the Gibraltarians in a 2002 referendum.
Since 2006, with the creation of the Tripartite Forum for Dialogue, the governments of Spain, Britain and Gibraltar have sought to build a framework of co-operation to improve the life of those who live and work in Gibraltar and the Spanish towns across the border.
By Jim Watt – Gibnet.com- Gibraltar