Paraguayan president health condition causes unrest among lawmakers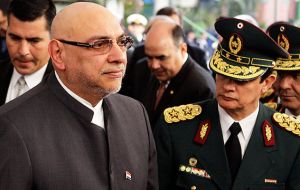 Paraguayan president Fernando Lugo undergoing treatment for a lymphatic cancer is limiting activities to "administrative affairs" while a growing number of opposition lawmakers are seriously considering requesting his resignation or a larger share of responsibilities with his Vice-President Federico Franco.
According to the official Monday release from Government House, Mburuvicha Roga, President Lugo will only address administrative affairs and receive reports from his closest advisors. This is in drastic contrast with routine Mondays when the leader held cabinet meetings and would be open to a long list of audiences.
President Lugo is scheduled to travel to Sao Paulo at the end of September for tests on the evolution of the chemotherapy treatment. The first session following the confirmation of the lymphatic cancer, "which has spread but is recoverable", took place at the Syrian-Lebanese hospital of Sao Paulo which hosts what is considered the best oncology clinic of South America. A second session was done in Asunción and the third is scheduled to take place again in Brazil. Apparently the cancer has spread to the groin, chest and vertebrae.
Meantime lawmakers are considering calling for the resignation of President Lugo and/or greater participation in the decision making process for Vice-President Federico Franco, so that the treatment does not interfere with normal activities of the Paraguayan government.
"The President's illness impedes him from ruling" said Senator Alfredo Luis Jaeggli, who anticipated he would request his Liberal party to make a formal request. "The Liberal party must shape up to the situation and consider what is going to happen with the president; we could be facing a period of anarchy", said Jaeggli.
Lawmaker David Ocampos called for Lugo and Vice-president Franco "to overcome tensions, reconcile and show greater cooperation". He added that "the train must keep moving at the same speed for the good of the country", although he made it a point to underscore he was not involved in any "conspiration" or stratagem to have Lugo removed from office.
"The cabinet and international meetings can't be suspended and function at half speed. For that very reason there's a second post in the Executive", added Ocampos who questioned the fact President Lugo nominated Foreign Affairs minister Hector Lacognata to replace him at the coming United Nations General Assembly. "That responsibility clearly belongs to the Vice-President".