Cristina blasts UK and UN Security Council for lack of progress in Falklands/Malvinas
Friday, September 24th 2010 - 23:40 UTC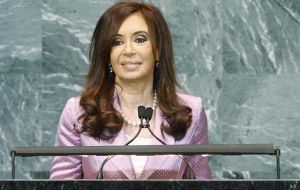 Addressing the United Nations General Assembly on Friday, President Cristina Fernandez de Kirchner criticized the British government for continuing to ignore Argentina's request for sovereignty talks over the Falklands/Malvinas Islands.
"Once again we have come to claim our sovereign rights over the Malvinas Islands. It's not a historic claim but an absolutely present-time claim", added Mrs Kirchner who blasted the UK for systematically refusing to comply with "the resolutions of this organism (General Assembly) which calls on all of us to begin sovereignty talks".
"That country (UK) is making unilateral decisions on hydrocarbons exploitation which means the plundering of natural resources that do not belong to her", emphasized Mrs. Kirchner. "The UK is responsible for any ecological catastrophe, just as it was for the British Petroleum oil spill" she warned.
The Malvinas' conflict served as the trigger for the Argentine President to heavily criticize the United Nations Security Council for "it has lost its power and it is not working taking into account the jeopardy the world is currently facing." "We are no longer in a bipolar world," she added.
"Situations and conflicts such as the Malvinas one are clear examples of the fact the Security Council is not working properly and is not preserving peace and security" affirmed Mrs. Kirchner.
The Argentine president also renewed her claim for the extradition of two high-ranking Iranian officials accused by an Argentine court of being involved in the 1994 Buenos Aires AMIA Jewish Centre bombing, urging the Islamic Republic to jointly pick a neutral country in which they can be taken to trial.
"Even though my country leads in human rights defence and justice, our justice system cannot judge and sentence anyone who's not present. Therefore, we demand their extradition".
Mrs. Kirchner blasted the Teheran regime saying that she was certain that even though this was her fourth public request for their extradition, this would not yield any results. "I know it is an evident fact there will be no outcome," she assured.
"Therefore, if the Iranian authorities do not trust the Argentina legal system, I ask them to join us into finding a third party, a third country in which those officials would be tried in front of several UN delegates, in order to take those responsible for this horrible attack to court," she said.
She used this "fourth public claim" as a way of highlighting the ones that were performed on 2007, 2008 and 2009. "I'm not after guilty people; I'm just looking for justice in the AMIA case investigation. If someone has committed a crime, he or she should be punished," she added.
"We should end with neutrality excuses" Mrs Kirchner emphasized. "We do not want an impartial trial, but a trial where we can try those who are accused for this horrible attack we suffered back in 1994," she concluded the matter.
At the start of her speech at the UN Mrs. Kirchner dealt with figures and statistics regarding her administration, which she highly praised for "helping Argentina come out of the 2001 crisis." Both her and her husbands (Nestor Kirchner) governments were the core of the words as soon as she began speaking, stating that "developing countries such as Argentina are currently receiving the impact of the world's economic crisis and are supporting the global economic crisis."
"During the last eight years, Argentina achieved the greatest economy growth of its 200 years of history", she said adding that "we were able to service public debt in a way that had never been recorded before".
As regards the debt Mrs. Kirchner stated that Argentina negotiated 93% of its debt and, "thanks to the implemented countercyclical measures that were drawn up in 2008 and 2009, the economy grew 9% during this past year".
Mrs Kirchner assured that the country "managed the reserves with intelligence" when she decided to use them to service public debt. "It was irrational for the country to be in the red, and that is why I decided to use the Central Bank reserves."
To conclude with figures and statistics, Mrs. Kirchner assured "multilateral credit bodies have to face the fact they need a strong reform, for they failed to maintain a stable economy at a global level."
Later on the Argentine president tackled several issues that accounted for highly controversial topics. She entered deeply into the Middle East conflict by assuring "it was great news to see that dialogue between Israel and Palestine was resumed." And added: "I believe we all wish for Palestine to be sitting in the following's United Nations General Assembly," she stressed, showing her satisfaction on the matter.
Mrs. Kirchner finished her speech by underlining: "It is relevant to be assured that the notions of security and peace are no longer associated with military issues, but with politics, freedom, equity and equality."