Chile and Britain's friendship has "deep historical roots", says President Piñera
Monday, October 18th 2010 - 04:00 UTC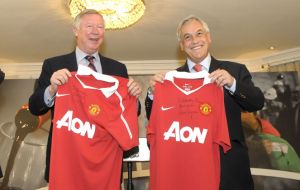 Chile and Britain's friendship has deep historical roots and is projected into the future, said Chilean president Sebastian Piñera in London who on Monday is scheduled to meet PM David Cameron and later a trip to Buckingham palace for an audience with the Queen.

Piñera arrived in London Saturday night and on Sunday visited the British Museum and Churchill War Rooms.

"England is a key ally in Europe and I hope we will be able to strengthen our ties", said the Chilean president.

Speaking ahead of his meeting with the PM he said "With David Cameron we share the same values, the same views and therefore, we are looking forward to that meeting".

When asked about Chile's position following on Argentina's protests about military exercises in the Falklands Piñera was emphatic: "friendship between England and Chile is one with deep historic roots and with projections into the future; we have excellent relations with England from the time of our independence".

Piñera added that "I invite you to recall that Bernardo O'Higgins (Chile's national hero) studied and lived in England and the head of our first naval squadron who on two times sunk the Spanish fleet was Thomas Cochrane, who was also English".

"Let us hope that from this visit we can achieve a greater integration, a greater collaboration between a very small country and very distant, with Europe. We share the most important, values, principles and a commitment to make the future a good future for the Europeans and for the Chileans", he added.

Piñera who will also be visiting France and Germany is travelling with First Lady Cecilia Morel and ministers of Foreign Affairs and Economy, Alfredo Moreno and Juan Andrés Fontaine. The delegation also includes members of Congress and special guests.
Since arriving in London Piñera has received extensive coverage because of the successful rescue of the 33 miners.

The Chilean president used the words "commitment, courage, faith, hope and unity" to describe the 70 days operation.

"We did it because we were united; we did it because we were convinced, and did it because we would never leave anyone behind" adding "that's a very good principle for Chile and for the world".

On Sunday afternoon Piñera met with the manager and coach of Manchester United, the English soccer team that has invited the 33 rescued miners to attend a match at Old Strafford.

During the meeting presents were exchanged and President Piñera gave the club a copy of the August 22 message sent by the miners when they were first contacted; a video of some of the most dramatic moments, a piece of rock from the mine and a book on the Atacama Desert where the San Jose Mine is located.

On Monday when he meets PM Cameron and later the Queen, Piñera will also present them with a piece of rock from 700 metres underground.