Rum sales overtake pisco in Chile. Beer tops the list of beverages
Sunday, October 24th 2010 - 02:36 UTC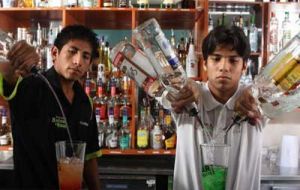 For the first time, Chilean household purchases and supermarket sales of rum have surpassed those of pisco, according to Nielsen Chile data.
Not only has pisco been knocked from the top spot, wine purchases in Chile are dropping as well, as the country's alcohol market begins to experience a shift.
Between August 2009 and July 2010, 36.8% of households bought rum while only 33.6% bought pisco.
This compares to 35.9% who bought rum and 39.8% who bought pisco between August 2008 and July 2009.
Rum sales have inched past pisco sales, with rum accounting for 9.2% of total alcoholic beverage sales and pisco accounting for 8.9%. Beer still accounts for a most beverage sales, with 48.8%.
According to the commercial manager at Nielsen Chile, Steve Cagnoli, rum has become an important sector for the spirits industry and for new product development.
Cagnoli said local companies were making proposals for developing rum products. One of the main reasons rum purchases have seen such an increase is thought to be that much of it is produced by international companies.
"Because international alcohol companies have a lot of financial support, they can spend a lot on advertising," Rodrgio Alvarez, of Ron Maddero, told La Tercera.
Still, pisco is purchased more frequently than rum. The average household buys pisco 3.5 times a year, but Rum 2.8 times.
Additionally, household wine purchases have dropped from 81.9% to 78.4%, while vodka purchases have risen to 6.2% from 5.4%. In the last year, 91% of Chilean households bought alcoholic beverages of some kind.
By Kayla Ruble – Santiago Times