Brazilian "competitive devaluation" risk for Uruguay's exports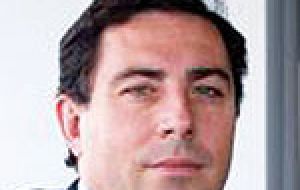 A leading Uruguayan economist warned Wednesday about the risks of being highly dependent on Brazil for foreign trade, particularly since the Uruguayan economy could "be trapped in a competitive edge island".

Professor Gabriel Oddone said that the only trade partner with which Uruguay has gained a competitive edge in the last twelve months has been Brazil, but the neighbouring country's "prices are not sustainable" and a "competitive devaluation is a less difficult option for Brazil than for Uruguay", given its huge domestic market.

Economist Oddone said that Uruguayan exports growth rate to Brazil in the last twelve months has been double the rate of the rest of Uruguay's world trade partners.

In the meantime "Brazil's fiscal deficit and trade surplus have deteriorated significantly", possibly because of the electoral year and next January first president-elect Dilma Rousseff takes office with a stronger support in Congress, greater than when her mentor President Lula da Silva was first sworn in eight years ago.

"Brazil has become one of the most expensive countries in the world", which has boosted Uruguayan sales to its neighbour, and therefore any change of policy could "significantly affect the local economy", warned Oddone.

In January 1999, and following the Asian and Russian crisis, with international speculation targeting Brazil, then President Fernando Hernique Cardoso, ignoring Mercosur consensus and without informing its partners (Argentina, Uruguay and Paraguay) devalued the currency.

The impact for Argentina and Uruguay, both highly dependent on the Brazilian market for their exports was virtually immediate and stunning.

Two years later, although mainly for its own political and domestic financial conditions Argentina was forced to default as the economy melted.

At the time Uruguay's foreign trade was concentrated in Brazil and Argentina (over 50%) and following its own 2002 banking crisis, the different governments' policy has been to diversify markets, avoiding any prevailing dependency.

However in the last three years the strong performance of the Brazilian economy and a slowdown in developed markets again converted the powerful neighbour and Latin America's largest economy a hegemonic magnet for the expansion of Uruguay's exports.

Although currently the Brazilian situation is completely different from that at the turn of the millennium, after a decade of orthodox business friendly economic policies, the Brazilian economy faces a serious competitiveness challenge.

This is admitted by Brazilian authorities and the country's main export lobbies have requested the incoming government a foreign exchange rate of 2 to 2.2 Reales to the US dollar, which now stands at 1.72/1.75 to the greenback.

Furthermore it was Finance minister Guido Mantega who coined the "currencies war" expression that will be at the core of the G-20 summit discussions this week in Korea, particularly since last week's Federal Reserve's decision to pump an additional 900 billion US dollars into the US economy (600 billion fresh funds and 300 billion recovered funds from the precious stimuli program).