Saturday,
November
20th
2010
- 21:01 UTC
Mujica praises Argentina/Uruguay common past; calls for an end to 'ports' war'
Uruguayan president Jose Mujica underlined the strong common links going back to the birth of Argentina and Uruguay and called for an end to the "ports' war" (Montevideo vs Buenos Aires) a rivalry born when the two countries were provinces of the colonial Spanish empire.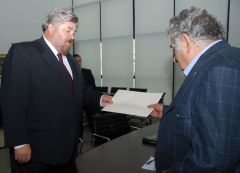 "We must put an end to the ports' war (with Argentina) and share a wide ranging integration ports' policy" said Mujica addressing a forum of the River Uruguay watercourse hydro-way which gathered Uruguayan and Argentine elected city, county and provincial elected officials.
"It's senseless to fight among ourselves because we must face huge (world) powers, international corporations working inside our countries and which have an annual turnover greater than some of the GDPs of the largest countries of the region", he added.
Earlier in the day at Government House Mujica received the diplomatic credentials from the new Argentine ambassador Miguel Dante Dovena, a close advisor to the Kirchner family since the time former president Nestor Kirchner was mayor of Rio Gallegos, the jumping board that eventually took him to lead Argentina.
Following the ceremony Mujica and Dovena held a "long and very useful" private meeting. The arrival of the "super K" ambassador is part of the process to restore bilateral relations following the several years dispute over pulp mills which came to a workable understanding after presidents Mujica and Cristina Fernandez de Kirchner reached an "entente cordiale".
Mujica' s emphatic public comments praising Argentina follow on an interview with a Uruguayan weekly where he criticized the current economic policies of the Kirchner administration and adhered to a statement from a former Uruguayan president who said Argentines, "from A to Z are all crooks".
He was also interviewed by a pro-Kirchner Argentine weekly (Looking to the South) and declared that his latest comments were taken "out of context" and insisted on praising the good aspects of the bilateral relation, particularly emphasizing on the need to end the "ports' war".
Ports rivalry from Spanish times responds to geography and history. Montevideo has better natural conditions to host and protect vessels while Buenos Aires needs constant dredging of canals. In Spanish times Montevideo was a naval stockade from where access to the River Plate and the main rivers leading to the heartland of South America were easily controlled.
However since Uruguay broke off, Argentina has tried to make Buenos Aires the leading port of the area with control over the River Plate, obviously downplaying Montevideo's conditions.
"I trust Argentina, I'm a federal politically speaking. Argentina is a brotherly country, we were born from the same placenta and it's the only place where Uruguayans feel at home", added Mujica.
Argentina has a giant role to play, "it's potentially a formidable country and therefore has a brutal responsibility: we are in the last farmland reserve of humanity. So they'll be coming for us or we stand up to them. Those are the shared challenges we have ahead of us with Argentina", said Mujica.