Heavy rains force temporary suspension of traffic in the Panama Canal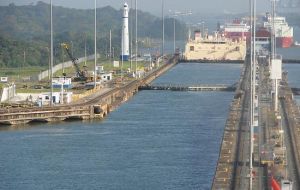 Heavy rains have forced the temporary suspension of traffic along the Panama Canal, the major shipping waterway connecting the Atlantic and Pacific oceans which handles 5% of global trade.

The Panama Canal Authority (ACP) said in a statement on Wednesday that it was forced to suspend traffic through the canal after heavy rains had swelled the lakes that form part of canal to historic levels.

The ACP added that the temporary closure was for opening the flood gates to reduce the water level in one of the lakes, and expressed hopes that normal traffic could resume "within hours".

Though certain sections of the canal has been closed on several occasions due to temporary blocks caused by accidents, this is the first time in more than 20 years that the entire canal has been closed to ships since the US invasion of Panama in 1989.

Most of Central America as well as several Latin American nations including Colombia and Venezuela have experienced the heaviest rains in decades this year, resulting in severe floods and mudslides across the region.

Unlike the Suez Canal, the Panama Canal is not at sea level and is made of narrow fresh water channels and lakes situated at a higher altitude. The Canal has two massive locks at either end, which are used to raise and lower ships into and out of the canal.

The construction of the canal was completed by the United States in 1914 after taking over the project in 1904 following a failed French attempt. The Canal came under Panamanian control in 1999, and has since been a major contributor to the central American nation's economy.

Some 40 ships pass through the Panama Canal on a daily basis, making one of the busiest waterways for global trade.