Glaciers in Chile and Argentina are melting at the fastest rate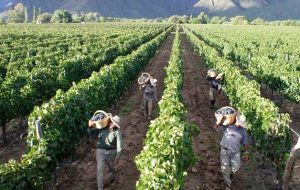 Glaciers in Chile, Argentina and Alaska are melting at the fastest rate, according to a report compiled by the United Nations Environment Program (UNEP) and presented this week at the UN climate change talks in Cancún, Mexico.
Although glaciers have been shrinking worldwide for over a century, the rate has increased significantly since the 1980s.
According to a release by the UNEP, the melting of glaciers could have a significant impact on water availability in the drier regions of Chile and Argentina, where there is little rainfall.
"By observing the results of glacial studies we can deduce the effects of climate change on economies that are water driven such as Chile" says Pablo Retamal, Climate Change Officer at the British Embassy in Santiago.
"Mining, agriculture and energy are all subject to water availability. With scarcity of the resource, Chile's economy will become limited in production and competition will start between each of the sectors."
Climate change could also severely impact Chile's wine industry, with companies such as Concha y Toro moving their production to other, more southern regions of Chile.
Indigenous groups from around the world have also descended on Cancún in an attempt to make their voices heard. Despite being among those most affected by climate change, indigenous groups are not represented in the talks. The UN climate change conference concludes Friday.
By Katherine Phelan – Santiago Times