"Challenges ahead" for Uruguay's tourism sector, reports online guide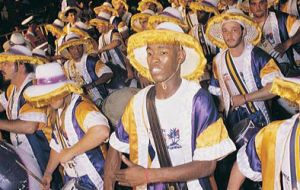 The publisher of www.UruguayNow.com says that Montevideo's neglected downtown and deteriorating levels of personal safety are problems that will hamper the growth of tourism in the country

On the day of the release of the second edition of www.UruguayNow.com an English-language guide to travel and culture in Uruguay, publisher Nick Foster said that "Uruguay offers overseas tourists a high-quality experience in very many ways, but our readers have told us that the long-term success of the sector, particularly in Montevideo, will depend on how the government, the city and tourism operators respond to a number of challenges."

"First of all, the Centre of Montevideo is in urgent need of regeneration. There has been progress over recent years – some new shops and galleries have opened – but the downtown has yet to attract a critical mass of new businesses and the area is in parts extremely run-down. It gives visitors a poor first impression of the city."

"Secondly, many readers contacted us asking why we had not included specific warnings about personal safety in Montevideo in our guide. We've now done this in the new, second edition of UruguayNow. Although we consider Montevideo a relatively safe city for tourists, theft and burglary in rented accommodation is a significant problem, as Uruguayans are well aware. Visitors should also think twice about attending a derby football match between Nacional and Peñarol because of hooliganism and the stoning of buses in particular."

"Thirdly, Uruguay is becoming an expensive destination for many overseas tourists. Our most visited pages are those containing tips for budget travellers. Over the past ten years or so, Uruguay got a positive, word-of-mouth reputation in Europe and North America as a good-value place for vacations, but this reputation is being eroded, in spite of the country's excellent initiatives in the area of VAT exoneration for foreign visitors. Uruguay needs medium-budget tourism and the Tourism Ministry should redouble its efforts to attract this segment."

According to Foster, foreigners searching the internet for practical information on Uruguay are also not always well served: "Take the forthcoming Carnival in Montevideo as an example. Simple measures such as posting a clear, up-to-date schedule on official websites – if possible, in English – should be a priority for the city administration in Montevideo and the national tourism authority alike," says Foster.

www.UruguayNow.com launched in February 2010. Its third edition – due out next March – will list the winners of the 2011 UruguayNow awards for excellence in the country's hotel and restaurant sectors.