Monday,
January
3rd
2011
- 20:17 UTC
Chile: Police continue evictions of occupied land on Easter Islands
More than 100 Police Special Forces violently evicted Rapa Nui indigenous groups from the Government Plaza in the center of Hanga Roa over the holidays, causing injuries to at least nine people, three of them serious.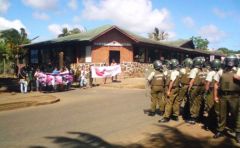 According to witnesses, police beat dozens of clan members with clubs on Dec. 29.
Hito Clan spokesperson, Marisol Hito, said her people are shocked by the extreme violence with which they are being treated.
"Unfortunately, President Sebastián Piñera, the Interior Minister Rodrigo Hinzpeter, and Valparaiso Mayor Raúl Celis, have chosen the foolish path of violence against our people," said Hito.
According to Rafael Tuki Tepano, a member of the Rapa Nui parliament, the eviction order came from Valparaiso Mayor Raúl Celis, under whose governmental jurisdiction Easter Island belongs despite the city being more than 2,000 miles away. Celis announced that 16 sites have now been evicted of Rapa Nui clans who claim ancestral ownership over the land.
Hugo Gutierrez, President of the Human Rights Commission of Chile's Chamber of Deputies, questioned the actions of the police force in the renewed evictions that occurred last week and criticized the government for not facilitating dialogue with the islanders.
"I talked to islanders, and they told me about the unprecedented violence used by police who are evicting islanders using their legitimate right to recover what they believe belongs to them, which is the Island of Rapa Nui," said Gutierrez.
Earlier in December, more than 20 Rapa Nui clan members were injured when police forcibly evicted the Tuko Tuki Clan from government owned judicial offices in Hanga Roa.
Several International human rights groups have condemned the government's use of force and have asked Piñera to resolve the conflict peacefully, but the court ordered evictions continue.
In September, 29 Rapa Nui clan members asked the American Commission on Human Rights (IACHR) to take precautionary measures on behalf of Rapa Nui. The U.S.-based Indian Law Resource Center is currently representing these clans. "We expect the commission to grant protective measures in favor of the Rapa Nui clans soon," said the Center.
But until then, the Center is concerned about the increasing seriousness of the violence, it said.
"The Chilean policy on Rapa Nui issues needs to be reformed," said Armstrong Wiggins, director of the Center's Washington, D.C. office. "It is time for Chile to observe international human rights standards and to avoid solutions by force."
Meanwhile, the Save Rapa Nui U.S.A. coalition organized a protest at the Chilean Consulate in Los Angeles on Dec. 23. More than 80 people showed up to demonstrate against the escalating violence and recent land evictions.
With the latest violent incident last Wednesday, pressure from human rights groups is mounting. A communiqué by The National Institute of Human Rights spoke out against the excessive violence used by Chile. They called on the government to seek a peaceful solution in keeping with Convention No. 169 —of which Chile is a signatory—which protects the rights of indigenous people.
Citizens' Watch called upon the government to respect human rights and existing rights of indigenous peoples in Chile and to apply this policy to resolve territorial disputes that have historically faced Rapa Nui with the State.
Several national deputies and senators have also expressed concern about what has been happening on Easter Island.
By Dominique Farrell - Santiago Times