LAN Chile To Merge With TAM Soon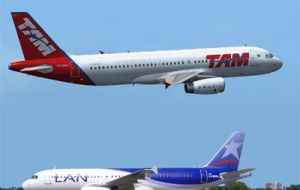 The Chilean airline Lan announced that it has agreed with the Brazilian airline TAM the terms for the merge of the two airlines, which will take place in the next six to nine months

In a communiqué the Chilean company said that the airlines have signed an agreement regarding the terms for the merge following the signing of a memorandum of understanding last August.

The new airline will be known as Latam, one of the ten largest airlines in the world, with annual sales calculated in the region of 8.500 million dollars.

The merge has to be approved by the Brazilian National Civil Aviation Agency (ANAC) and relevant government authorities.

According to the communiqué the agreement was signed by the directors of Lan and TAM at meetings which took place in Chile and Brazil. They also agreed to recommend the merge to their shareholders.

Latam will be 24.07% owned by the Cueto family, owner of Lan; 13.67% the Amaro family, owner of Tam and the remaining 70.67% by minority shareholders.

Latam will provide passenger and cargo transport services to 115 places in 23 countries, on more than 280 aircraft and with over 40,000 employees.