Nelson Mandela's Health Surrounded by Secrecy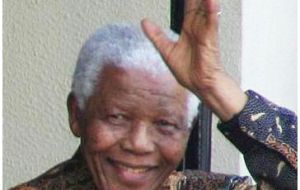 Nelson Mandela is reportedly recovering from a collapsed lung at a Johannesburg hospital, cloaked by levels of secrecy that have triggered wild rumours and near panic.

The 92-year-old hero of the anti-apartheid struggle was airlifted to Johannesburg for treatment by a pulmonologist after he developed a persistent cough during a vacation in Cape Town, according to one report. He could be discharged from hospital as early as Saturday, other reports said.

As he enters his third day in hospital, Mr. Mandela is surrounded by secrecy and security measures that have sparked criticism in the media and on Internet forums. Guards are keeping all news media far away from the elite private hospital where he is receiving treatment.

Acting President Kgalema Motlanthe on Thursday night released an official statement on the health of former president Nelson Mandela.

"There has been mounting concern about the health of the former president Nelson Mandela. We wish to confirm that Dr Mandela is in Milpark Hospital undergoing a few specialised tests and investigations.

"Given the medical history of our former president, his health over the last few years and his age, these tests are necessary in order to provide optimal health care.

"Medically there is no need to panic. Dr Mandela suffers from ailment common to people of his age, and conditions that have developed over years. We may recall that he has suffered from tuberculosis whilst on Robben Island and has had previous respiratory infections.

"I want to assure the nation and the world that the former president is in high spirits, and has been visited by his family and friends.

"The Defence Force is responsible for all medical requirements and care of current and retired presidents. In this regard I have tasked the Defence Force to ensure that all necessary support is provided to the former president and his family.

"I can assure all South Africans and the world that Madiba is in the good hands."

Visitors, including his current wife Graca Machel, streamed into the hospital throughout the day. Winnie Madikizela-Mandela, Mandela's second wife, arrived at the hospital as did Jeff Radebe, South Africa's justice minister, Richard Maponya, the developer of Soweto's first major shopping mall, and Albertina Sisulu, an anti-apartheid activist.

"He is in good health and good spirits," Zondwa Mandela, Nelson Mandela's grandson, said in an interview from his mobile phone.

On Wednesday night a statement from the Nelson Mandela Foundation, merely said that Mr. Mandela was "undergoing routine tests" and "is in no danger."

This was followed, a day later, by a brief statement from South Africa's ruling party, the African National Congress, appealing to the country to "remain calm" and "not press any panic buttons." But the statement failed to give any information about Mr. Mandela's condition, except to say that he was "undergoing routine medical checkup."

South African President Jacob Zuma issued his own statement, saying only that Mr. Mandela is "comfortable" and "well looked after."

Yet even as the foundation and the ruling party were calling it a "routine" checkup, an endless parade of top political leaders and family members was trooping into the hospital to visit Mr. Mandela, raising questions about the accuracy of the official version.

If the growing reports about a collapsed lung are correct, the former president's health is far from routine. But by refusing to give any details of his condition, the officials left a vacuum that was soon filled by wild speculation and rumours. On Twitter and Facebook and in cellphone text messages, many people claimed that Mr. Mandela was dead or near death – despite the lack of any evidence for this.

The intense interest in his health shows how Mr. Mandela remains the heart and soul of this country, despite his near-total withdrawal from public activities. He has not made any public appearances since a brief spin around Soccer City stadium in a golf cart before the final game of the World Cup last July.

Mr. Mandela has seemed increasingly frail over the past two years. He walks slowly, usually with his arms supported by family members, and never speaks in public. A report on BBC said his health "has begun to deteriorate more rapidly in recent months."

Despite the latest hospital treatment, there is no indication Mr. Mandela is in imminent danger. Mr. Zuma continues to remain abroad, where he is attending the Davos summit in Switzerland. The President is planning to attend an African Union summit in Ethiopia this weekend.

Mandela, who lives in the affluent Houghton suburb, was imprisoned for plotting an armed struggle against South Africa's whites-only government. His release paved the way for the end of white minority rule and he became president in 1994 after the African National Congress won the country's first all-race elections. He stepped down after one term in 1999.