World's richest man says it is the right moment to invest in Latin America
Tuesday, February 1st 2011 - 13:37 UTC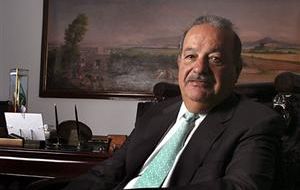 Mexican telecommunications tycoon Carlos Slim announced plans to invest 8.3 billion US dollars this year in 19 countries where his companies have interests and underlined that given the international scenario, it is the right moment to invest in Latin America: "whoever doesn't will be left behind".

"We're going to invest in all the countries where we are, that's 19 countries, mainly Mexico and Brazil (the two largest Latinamerican economies)" said Slim, considered the world's richest man. "It will be an investment of 8.3 billion" he told a news conference in Mexico City.

Most of the investment, some 3.66 billion dollars, would be in Mexico, including more than 40% in the telecoms industry, as well as road building, mines, water treatment and a "digital university," Slim said.

He said he aimed to reinforce high speed Internet in Mexico "so that two of every three people have access to the network".

A further 2.5 billion would be invested in telecoms in Brazil, which "is a bigger market, a bigger territory," while other countries included Colombia, Peru, Chile and Argentina.

"In Brazil, we're behind, which means we need to accelerate investments to compete with the (former) state monopolies, we have to make our own network to be able to compete with them," said Slim, who owns Embratel in Brazil.

Slim said he believed Latin America, as well as Asia, was in a "favourable situation internationally" and added that "whoever doesn't invest will get left behind".

He also dismissed the negative impact of Mexico's continuing drug violence on business.

"Things happen all around the world. Look at the international sections of newspapers, there's violence and those things. It's more worrying to see developed countries with serious fiscal difficulties, enormous unemployment, and they're employing measures which are merely palliative" Slim said.

Slim, 71, last year knocked Bill Gates from the top of the Forbes list of the world's billionaires with an estimated fortune of 53.5 billion dollars.

He built up the telephone monopoly Telmex after acquiring it from the government in 1990. His empire is ever-present in Mexico, including department stores, construction companies and the Inbursa financial group. Slim has invested more than 60 billion dollars in Latin America in the past 10 years.