Soy prices soar as Argentine ports are blocked by week-long strike
Wednesday, February 2nd 2011 - 01:13 UTC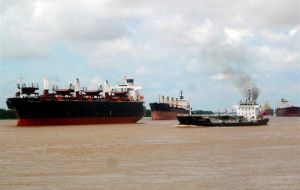 The provincial government of Santa Fe home of Argentina's grain export hub has requested the federal government to help end a week-old strike that is delaying shipments from one of the world's biggest food suppliers, the provincial Labour minister said on Tuesday.

Argentina is a leading exporter of soy, corn and wheat, and the strike helped lift spot US soy futures to their highest level since July 2008. The pay dispute has brought soy-processing plants to a virtual standstill and dozens of vessels have been unable to load their cargoes at ports near the central city of Rosario.

"There are 45 ships... many are mooring in the River Plate and cannot move into (ports around Rosario)" said Alberto Rodriguez, the head of the CIARA-CEC chamber, which groups Argentina's leading grains and vegetable oil exporters.

Company executives met officials from the Santa Fe local government later on Tuesday, and provincial Labour Minister Carlos Rodriguez said they would seek government help to resolve the dispute.

"Today we're going to ask for government intervention", said Rodriguez.

If the government decides to order a period of compulsory conciliation, striking workers must go back to work while union leaders and bosses negotiate.

Strikers at the Rosario-area ports and crushing plants in Puerto San Martin, San Lorenzo and Timbues are demanding pay hikes as double-digit inflation erodes workers' purchasing power in Latin America's third-biggest economy.

Plants around Rosario account for about 80% of soybean oil and meal output from the No. 1 global exporter, although crushing and export activity is light at this time of the year because soy harvesting has yet to begin.

The protest has virtually paralyzed export facilities and crushing plants operated by Cargill [CARG.UL], Bunge (BG.N), Molinos Rio de la Plata (MOL.BA), Vicentin, ACA, Noble (NOBG.SI) and Louis Dreyfus.

Striking workers use trucks to block the entry to most of the terminals.

The strikers account for about 13% of the workforce in the affected ports in northern Rosario, but soy crushers -- who make up the remaining 87%, have not been going to work because they do not want to cross the picket lines.

Industry analysts say the impact of the strike on booming food prices would have been much bigger if farmers had started gathering soy crops. Early corn harvesting has started but gathering does not start in earnest for several weeks.

Since the strike begun last Wednesday ships caught in the conflict are facing losses of over 7.5 million US dollars, according to Patricia Bergero of the Rosario Stock Exchange.

An estimate of global losses caused by the strike was not available, but Bergero said that "about 1.3 million tons of soy products like soybeans, feed and soybean oil have been delayed at port."