Chile exports increase 30% in 2010, led by copper and lumber sales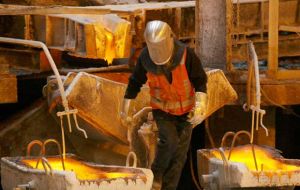 Chile achieved a record year for exports in 2010, according to a report by ProChile. Exports in 2010 were valued to be 69.6 billion US dollars, up nearly 30% from the 2009 figure, 53.7 billion USD.
The jump in exports is attributed to the rising price of copper as well as the global economic recovery, which spurred demand for the nation's goods. The value of copper exports increased 43.1% in 2010, earning 11.8 billion USD.
Copper production only increased 0.5% according to the Chilean Copper Commission, but the price of copper increased substantially in 2010, from 2.34 USD per pound to 3.42 USD per pound.
Chile's other leading mineral exports, molybdenum and gold, also saw increased export value. Molybdenum increased 15% in 2010, reaching 1.5 billion USD. Gold exports increased 14%, reaching 1 billion USD.
Despite the effects of the Feb. 27, 2010 earthquake, Chile's forestry industry maintains its place as the second-largest export industry, in part due to increased lumber prices. Exports of Chilean lumber increased 19% in 2010, earning 5.6 billion USD.
Salmon and trout fisheries together form the third most valuable national export, accounting for 2 billion USD in 2010.
The sectors most negatively affected in 2010 were those associated with agriculture. Despite a weak dollar though, wine exports increased 12%, totalling 1.5 billion USD.
According to Vinos de Chile, the volume of wine exports increased 11% and the price of wine increased one percent, reaching an industry average of 26.90 USD per case.
Table grapes, Chile's primary fruit export, grew 4.1% and totalled 1.2 billion USD.
China is the leading importer of Chilean goods and Chinese demand for Chilean goods increased 43% in 2010, to a value of 16.5 billion USD. Japan recently displaced the United States as Chile's number two trading partner in 2010, importing 7.1 billion USD in goods.
By Jackie Seitz – Santiago Times