Brazil aware its relation with China raises the risk of "Dutch Disease"
Monday, April 11th 2011 - 21:09 UTC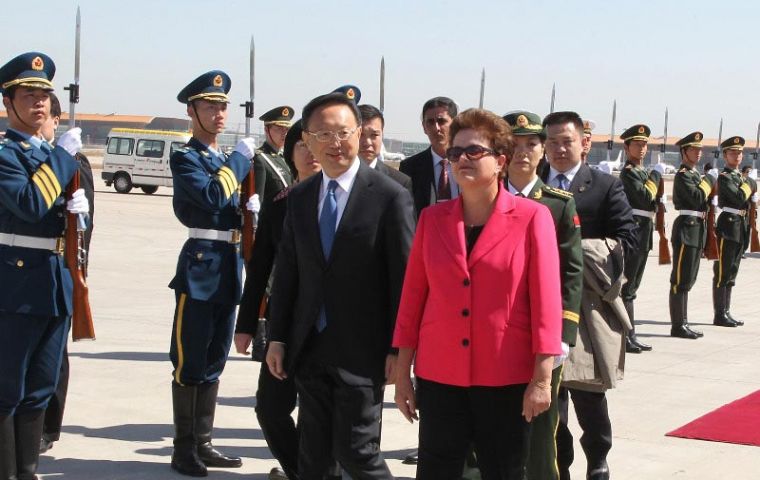 President Rousseff arrived in Beijing Monday to begin a state visit to China that will incorporate Thursday's summit of BRIC leaders. However Ms Rousseff's trip to China is symbolically important since it is her first overseas visit outside Latin America and underlines the growing importance of the Brazil/China relationship, points out Capital Economics.

From an economic perspective, this is best illustrated by the boom in trade between the two countries.

China overtook the US as Brazil's most important export market in 2009 and last year Brazil shipped over 30bn US dollars of goods to China (up from just 4.5bn in 2003).

Admittedly, imports from China have boomed at the same time. They reached 25bn last year, meaning that total trade between the two countries was worth over 55bn.

Even so, Brazil is still one of the few countries to run a trade surplus with China (around 5bn last year, equivalent to 0.3% of Brazilian GDP).

Yet the Brazil-China relationship is not simply a trade story points out Capital Economics. Investment flows, particularly from China to Brazil, have picked up in recent years too. It is difficult to get a precise handle on the scale of foreign direct investment (FDI) flows from China since much of it goes via third-party states for tax reasons.

But some estimates suggest that FDI into Brazil from China may have been as high as 17bn last year (0.8% of GDP), up from just 15mn or so in 2005. This is especially important given Brazil's low investment rate and, in time, should help to shift production up the value chain.

However contrary to the popular narrative China's development has not been all good news for Brazil. For a start, many of the benefits are probably overstated. Most obviously, while increased FDI from China should help to shift Brazilian production up the value chain, much of the extra value-added will probably show up as profits that are subsequently repatriated back to China.

What's more, exports to and investment from China has been concentrated in the commodities sector.

This raises the risk of 'Dutch Disease', where commodity-led growth pushes up the real exchange rate, redirects labour and capital towards the natural resources sector and squeezes the manufacturing sector (where employment and productivity growth tend to be faster).

This is part of the reason why Brazil's currency Real looks so overvalued and why its manufacturers are struggling to compete.

But there is another aspect to Brazil's 'currency war'. The strength of the Real is due in large part to rapid capital inflows, the blame for which is commonly laid at the door of loose monetary policy in the West.

But China's huge current account surplus – and its export of capital overseas – is an equally, if not more important, driver of inflows into Brazil. This in turn explains why Brasilia is placing more pressure on Beijing to allow the reminbi (Yuan) to rise.

So while this week's meetings provide an opportunity to trumpet the mutual benefits of one another's development, it would be unwise to ignore the hidden tensions concludes Capital Economics.