President Rousseff invites Foxconn to develop Brazil's electronics industry
Thursday, April 14th 2011 - 05:24 UTC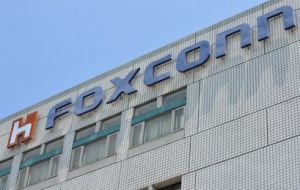 Foxconn in planning to invest as much as 12bn US dollars in Brazil, according to President Dilma Rousseff currently on an official visit to China. Taiwan-based Foxconn operates the majority of its factories in China, producing goods for firms like Apple, Hewlett Packard and Dell.
The electronics maker has been looking to expand its operations beyond China, due to rising Chinese labour costs. Foxconn is the biggest contract electronics manufacturer in the world.
Ms Rousseff said that her government was discussing various options with the company.
"You've got an ample range of investments that go from 300-to-400m USD to 12bn USD over 5 to 6 years in the case of Foxconn" she said.
Meanwhile, Brazil's science and technology minister Aloizio Mercadante said if discussions and negotiations go smoothly, Foxconn is planning to begin assembling iPads at its plants in Brazil as early as this year.
"The negotiations are far from complete but I'm confident," he said.
Brazil is one the fastest growing economies in the world, making it an attractive market for companies. However, many firms have not been able to tap fully into this potential as high import tariffs make their goods expensive.
Analysts say that if Foxconn's planned investment does go through it will make it easier for its clients to penetrate the South American market.
"It makes sense to move to Brazil but that figure is too much," said Vincent Chen, an analyst at Yuanta Securities Co. in Taipei. "The main reasons to go there are for tariff considerations and to be closer to emerging markets."
The expansion may help the Taiwanese company, which employs more than one million people in China scale back its reliance on its manufacturing base in the southern Chinese city of Shenzhen, where wages are climbing.
Foxconn has operated in Brazil since 2005, building five factories that employ 4,300 people. The entire Brazilian electronics sector currently employs 175,000, according to the Brazilian Electric and Electronic Industry Association.
LG, the world's third-biggest handset maker, plans to start production of its Optimus Pad in Taubate, Sao Paulo state, by the second half of this year, according to Mariana Geraldine, a spokesman for the company.
Motorola Mobility plans to take advantage of tax breaks in Brazil to produce its Xoom tablets at a factory in Jaguariuna, Sao Paulo state. It's waiting for details on the incentives, Motorola said in an e-mailed statement yesterday.
MXT, a Brazilian electronics producer based in Betim, Minas Gerais state, in February started to manufacture the first domestic tablet and plans to expand production after the tax incentives take effect, Etiene Guerra, the company's CEO, said in an e-mailed interview