Thursday,
April
28th
2011
- 01:37 UTC
White House releases Obama's birth certificate to put end "to ongoing silliness"
The White House released copies of President Barack Obama's original long-form birth certificate Wednesday, seeking to put an end to persistent rumors that he was not born in the United States.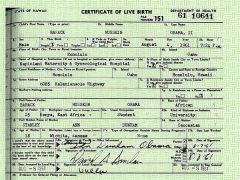 The surprise release follows recent and sustained remarks by businessman Donald Trump, among others, that raised doubts as to whether Obama was born in the US.
The certificate states, as Obama's advisers have repeatedly said, that the president was born at Honolulu's Kapiolani Hospital on August 4, 1961. Doubters insist Obama was born overseas - possibly in his father's home country of Kenya - and may be constitutionally ineligible to serve as president.
"We do not have time for this kind of silliness," Obama told reporters at the White House. "I've been puzzled at the degree to which this (story) just kept on going."
"Normally I would not comment on something like this," the president said. But the country has "some enormous challenges out there" that it will not be able to effectively meet "if we're distracted."
"We're not going to be able to (meet those challenges) if we spend time vilifying each other," he stressed. "We're not going to be able to do it if we just make stuff up and pretend that facts are not facts. We're not going to be able to solve our problems if we get distracted by sideshows and carnival barkers."
Obama released a shorter, legally binding "certification of live birth" in 2008, but failed to persuade members of the "birther" movement.
The Obama administration had to make a special request from the state of Hawaii to get the long-form certificate released, White House legal counsel Bob Bauer said. Typically, the state only releases the shorter, computer-generated live birth certification when people request such documentation.
Obama's personal attorney, Judith Corley, picked up certified copies of the long-form document in Hawaii and brought them back to the White House Tuesday evening, Bauer noted.