Netanyahu rejects Obama's proposal of Palestinian state on 1967 borders
Thursday, May 19th 2011 - 22:30 UTC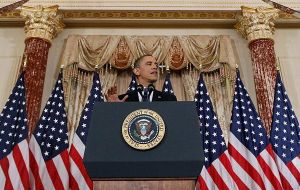 Israeli Prime Minister Benjamin Netanyahu said US President Barack Obama vision of a Palestinian state on the borders of 1967 could leave the Jewish state "indefensible".

In a statement after Obama's speech outlining Middle East strategy, Netanyahu said he expected Washington to allow Israel to keep major settlement blocs beyond the 1967 lines in the occupied West Bank, in any peace deal with the Palestinians.

"The viability of a Palestinian state cannot come at the expense of Israel's existence," said a statement issued by the Israeli leader before flying to Washington for scheduled talks with Obama.

Setting out the principles of a Middle East peace settlement, Obama reaffirmed the US commitment to Israel's security. He called for a peace agreement resulting in two states, Israel and Palestine, sharing the border that existed before Israel captured the West Bank in the 1967 Middle East war.

It would include "mutually agreed land swaps", he said. Netanyahu said he "expects to hear a reaffirmation from President Obama of US commitments made to Israel in 2004", an allusion to a letter by former President George W. Bush suggesting Israel may keep large settlement blocs as part of any peace deal with the Palestinians.

"Those commitments relate to Israel not having to withdraw to the 1967 lines," Netanyahu added. Such a border would be "indefensible."

Obama's blunt language about the need to find an end to Israel's occupation of Arab land looked certain to be the crunch issue in his talks with Netanyahu.

"The dream of a Jewish and democratic state cannot be fulfilled with permanent occupation," Obama said.
His emphasis on 1967 borders, while not a policy shift, went further than Obama has before in offering principles for resolving the stalemate between Israel and the Palestinians. But he stopped short of presenting a formal US peace plan.

Palestinian President Mahmoud Abbas welcomed Obama's efforts to renew the talks with Israel that collapsed last year and made plans to convene an "emergency" session of Palestinian and Arab officials to weigh further steps, a senior aide said.

Saeb Erekat, a former chief negotiator with Israel, said that "Abbas expresses his appreciation of the continuous efforts exerted by President Obama with the objective of resuming the permanent status talks in the hope of reaching a final status agreement."

Peace talks between Israel and the Palestinians, brokered by Washington, collapsed last year when Netanyahu refused to extend a moratorium on Jewish settlement building in the West Bank and Abbas refused to carry on negotiations.

Obama's criticism of continued Israeli "settlement activity" sent a message to Netanyahu on the eve of their talks that Washington expects the Jewish state to make concessions.