The volcanic ash cloud could reach Buenos Aires city on Tuesday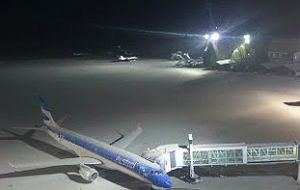 The ash cloud hovering above Argentine Northern Patagonia since Saturday after the eruption of the Puyehue volcano in the Chilean Andes may reach the city of Buenos Aires on Tuesday, experts assured.

In anticipation of such a scenario Buenos Aires Ezeiza international airport announced late Monday night all flights would be cancelled for the next 24 hours.

"The ash cloud has reached Bahía Blanca, Mendoza, La Pampa and will slowly keep hovering towards the north across the Buenos Aires province. By Tuesday, it will reach the city" Argentina's National Weather Forecast manager Luis Rosso said.

The expert assured, however, that the phenomenon would not be as intense as the one affecting the south of the country. "We may see some ash, but only slightly," he concluded.

As ashes from the Puyehue volcano continue to fall over the Andean region, President Cristina Fernández de Kirchner called Neuquén Governor Jorge Sapag Monday to let him know that the government was ready to help the population "with whatever resources he deemed necessary."

According to official sources, the President called Sapag from the Olivos Presidential Residence in the morning and offered help just as she did last Saturday when she called Río Negro Governor Miguel Saiz.

The cities of Villa La Angostura, San Martín de los Andes and Junín de los Andes are the most affected by the ash cloud, although stones and ash have also reached the Río Negro city of Bariloche and the Chubut cities of Trelew and Puerto Madryn.

Volcano ash spewed by the Puyehue volcano in Chile stopped falling over the city of Bariloche late Sunday and the Andean region, although local authorities announced that the state of emergency remains in effect. Schools and other public buildings will remain close, while all flights to and from the region remain cancelled.

Ashes spewed from the Puyehue Chilean volcano also reached the Argentine South Atlantic Coast, after leaving the Andes and Patagonia regions under a thick layer of ashes and stone. Strong winds headed east pushed the ashes from the volcanic complex over the entire Patagonian territory.