Washington 'ready and willing' to work with Humala, says US top diplomat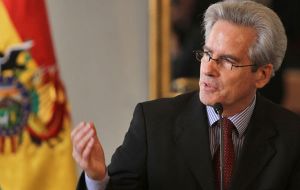 "United States is "ready and very willing" to work with Peru's president-elect Ollanta Humala said Washington's top diplomat for Latin America, Arturo Valenzuela during the Organization of American States meeting Monday in El Salvador.

"We are very willing to continue to work with him, just as we worked with the (current) Peruvian authorities" Valenzuela stated at the OAS meeting who praised the democratic process of the country.

"The election was hard-fought, a near draw, but it demonstrates the maturity of Peruvian democracy that it has been able to achieve such an effective election day" said Valenzuela.

"My congratulations to the Peruvian people for the Sunday election which has evolved peacefully and is an exemplary way", added the US State Department official.

But in spite of the congratulations from Washington and Latin American countries, trade had to be halted Monday in the Lima stock exchange and world silver prices spiked as markets reacted negatively to the Sunday vote.

Peru has been the fastest growing economy in the region for the last five years and has seen billions of US dollars poured into the development of minerals, hydrocarbons, logging and labour intensive manufacturing. But poverty levels continue to be alarmingly high.

In the run-up to Sunday's vote, Humala had promised to share out Peru's mineral wealth -- including gold, silver, copper, oil and gas -- while playing down his former ties to Venezuelan President Hugo Chavez.

Nevertheless Humala does not have the sufficient support in Congress and will be forced to work out alliances. Alejandro Toledo, a former president, (2000/2005) and World Bank consultant who is very much pro business and foreign investment in the country's natural resources campaigned for Humala in the run-off and is expected to provide the necessary votes.