Chilean officials fear Bolivia's car amnesty program will encourage more thefts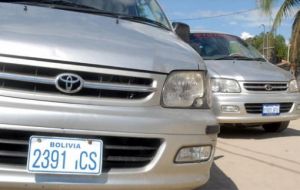 Bolivia's government estimates that 85,000 cars will benefit from its new amnesty program that allows undocumented vehicles to register without prior paperwork. Chileans are not pleased about the path to immunity.
In the wake of the northern neighbour's new law, car vendors estimate that the average value for illegal cars has increased by 20%.
The owner of a 2002 Mitsubishi Montero, worth US$19,000, said that selling his car has proved difficult. Since the Bolivian law, people are more willing to buy "chutos," or cars that aren't registered, either because a Chilean imported the car or because the car was stolen.
"Each car has its price," he said, adding that car sellers have had to lower prices on newer cars like the 2006 Toyota Hilux to US$24,000. "There is strong competition with the 'chutos'".
More than 70,000 cars have already begun the amnesty process, which runs through July 1, and nearly 20,000 people have already completed the process, according to estimates by the government in Cochabamba.
A man named Orlando was trying to buy a "chuto" in Colcapirhua, the customs zone of Bolivian city Cochabamba, but wasn't able to, thanks to rising prices. He had US$7,000, but they were asking US$8,500.
Cochabamba is also one of the biggest car sales locations in Bolivia. There they sell both cars with papers and the "chutos," but since the program started, sales of cars with papers have dropped and "chuto" sales have increased by 20 percent.
Meanwhile, car theft has risen 30% in Chile's northern Tarapacá Region so far in 2011, where 515 cars were reported stolen between Jan. 1 and May 31.
Chilean officials fear the law will only encourage more auto theft during the time of the program.
By Nathan Frandino – The Santiago Times