Chávez from Cuba tells Venezuela he is undergoing cancer treatment
Friday, July 1st 2011 - 03:26 UTC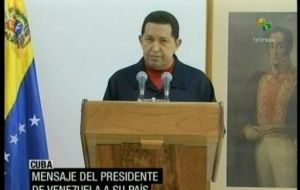 Doctors detected and removed a cancerous tumor from Hugo Chavez's body, the Venezuelan president announced in a speech broadcast on state-run VTV Thursday night.

The "abscessed tumor with cancerous cells" was discovered after doctors had already operated and treated a pelvic abscess, he said.

Chavez said he was continuing treatment, but did not specify what that treatment entailed, where the tumor was located or when he would return to Venezuela.

He said there were no complications to his second surgery, and added that his condition continued "evolving satisfactorily."

"I wanted to speak to you with the sun of the dawn that I feel rising. I think we have achieved it, thank God," he said.

Chavez, who normally speaks with an improvisational tone, read closely from prepared remarks in the 15-minute speech.

"Throughout my life, I've been making the fundamental error of neglecting my health and be reluctant to get checkups," he said, explaining how health concerns began to pop up earlier this month while he was in Cuba on a state visit.

Thursday's speech was Chavez's first on the network since doctors in Cuba performed emergency surgery on the Venezuelan leader nearly three weeks ago.

Chavez did not say when he would come back to Venezuela, but he ended his speech by saying, "until my return."

The Venezuelan president's typically frequent live television appearances have been absent from the country's airwaves since June 10, when officials said doctors performed surgery to treat a pelvic abscess.

His lengthy stay in Cuba and notable low profile has fueled rampant speculation about his health.

Concerns about the seriousness of his condition intensified Wednesday after Venezuelan officials announced the postponement of a high-profile summit of Latin American leaders originally scheduled to take place in Venezuela next month.

The government cited Chavez's "strict process of recovery and medical treatment" as the reason behind the decision, but provided few details about his health.