Punta Arenas supply route cut by snow storms; some food shortages feared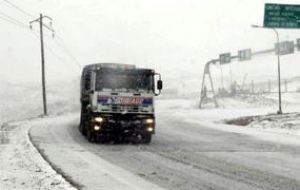 Many trucks loaded with perishables and other food products heading for Punta Arenas extreme south of Chile are stranded in border crossings with Argentina blocked by the snow that has accumulated during the last storms.

According to reports in Punta Arenas press the truckers are waiting since Sunday for highway equipment to reach the area and clear roads so they can continue to the south.

Because of the interruption fresh fruit and vegetable distributors together with supermarkets fear shortages could occur in coming days unless the trucks are freed.

The only crossing which has been working is Pino Hachado forcing Argentine Customs and Gendarmerie to bring in more staff.

However the pass does not have the sufficient infrastructure for the number of trucks and is also in need of snow clearance equipment.

As a consequence of the snow storms the number of tourist visiting or leaving the Magallanes region has dropped dramatically.