Cameron regrets having hired former editor at heart of phone-hacking scandal
Thursday, July 21st 2011 - 09:30 UTC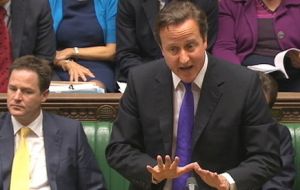 British Prime Minister David Cameron, defending his integrity in an emergency debate in parliament, said on Wednesday he regretted the uproar caused by his hiring of a former newspaper editor at the heart of a phone-hacking scandal.
Under pressure from opponents to apologise, he said Andy Coulson, his former spokesman who once edited Rupert Murdoch's News of the World, had denied knowing of phone-hacking by the paper. But should Coulson turn out to have lied, the prime minister said he would then offer an apology.
Beleaguered but not seen under serious threat of being dumped by his party after less than 15 months in office, Cameron defended his actions and those of his staff in dealings with the police and Murdoch's News Corp media empire.
But the 44-year-old Conservative premier said after his toughest two weeks in power: "You don't make decisions in hindsight; you make them in the present. You live and you learn - and believe you me, I have learnt."
Cameron, who cut short a tour of Africa as parliament delayed its summer recess to quiz him, said in his opening statement: "I have an old-fashioned view about innocent until proven guilty. But if it turns out I have been lied to, that would be a moment for a profound apology. And, in that event, I can tell you I will not fall short."
Labour's Ed Miliband, whose muted first year as opposition leader has been given a boost by his assault on Cameron over the scandal, calling the hiring of Coulson a "catastrophic error of judgment".
"Why doesn't he do more than give a half-apology and provide the full apology now for hiring Mr Coulson and bringing him into the heart of Downing Street?" Miliband asked.
Meantime international media reported Wednesday Rupert Murdoch had flown out of London following his testimony before lawmakers on the phone hacking scandal that has rocked Britain.
The communication's mogul, who faced Tuesday's UK parliament, had to answer inquiries over his newspaper's phone hacking allegations. Murdoch apparently left the country in a private jet leaving from the Luton airport (northern London).-