US Senate breakthrough for trade agreements with Korea, Colombia and Panama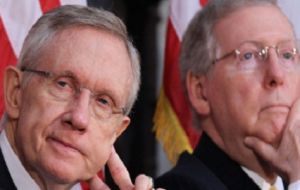 The United States Senate leaders ended an impasse over stalled free-trade agreements, agreeing to vote after the August recess on benefits for workers who lose their jobs because of overseas competition, which opens the way for the approval of pending agreements with Korea, Colombia and Panama.

Senate Majority Leader Harry Reid, a Nevada Democrat, and Republican leader Mitch McConnell pledged action to pass the agreements with Colombia, Panama and South Korea. The US Trade Representative's Office and Republican House Speaker John Boehner praised the compromise, signalling all sides concur on the process.

The Senate leaders agreed that after Congress returns to work, lawmakers will consider "a bipartisan compromise on the Trade Adjustment Assistance program, followed by passage of the three FTAs," Reid said in a statement on his website. Boehner also pledged to move ahead with trade and worker-aid bills.

Business groups, including the US Chamber of Commerce, have pressed lawmakers to reach a compromise to end the stalemate on trade deal-worker aid amid concern companies will fall behind competitors as the nations strike deals with other governments.

A separate South Korean free-trade agreement with the European Union has been in place since July 1, putting US producers of autos, pharmaceuticals and scientific equipment at a disadvantage in the Asian economy. A deal between Colombia and Canada is scheduled to take effect August 15.

The three U.S. agreements may increase exports by 12 billion dollars a year and boost the still-struggling US economy, supporters say. After the US Congress agreed to raise the debt ceiling this week, the White House urged action on the trade deals as a means to spur hiring in the US amid 9.2% unemployment.

The Trade Adjustment Assistance program augments health and unemployment benefits to workers who lose their jobs because of overseas competition. As part of the stimulus legislation in 2009, it was expanded to include service workers such as call- centre employees. The added benefits expired in February.

The proposal from the White House, which Reid committed to consider, would continue most of those benefits through 2013, and provide retroactive assistance to those left out so far this year. It's forecast to cost $320 million in each of the next two years.

Supporters praised the agreement, while cautioning that the process of gaining approval could again slow the pacts, which were completed in 2006 for Colombia and 2007 for South Korea and Panama.

"We must not see any more roadblocks thrown in front of these deals during the short legislative session that remains," U.S. Chamber President Tom Donohue said in a statement.