IMF lowers global 2011/12 growth estimates, but warns things can get worse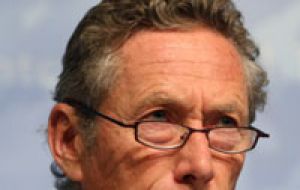 The global economic recovery is slowing, with world growth projected at 4% in both 2011 and 2012, down from over 5% in 2010, the IMF said in its latest forecast. And even this lowered projection counts on a lot going well.

The IMF foresaw a slowdown this year after strong growth in 2010 as fiscal stimulus packages in response to the crisis wound down. But a barrage of economic shocks in 2011 combined with other factors for a worse than anticipated outcome.

"The global economy is in a dangerous new phase. Global activity has weakened and become more uneven, confidence has fallen sharply recently, and downside risks are growing" the IMF said in its September 2011 World Economic Outlook (WEO).

The report, released in Washington on September 20, says strong and coordinated action is necessary to avert a decade of lost growth in the advanced economies.

"Strong policies are urgently needed to improve the outlook and to reduce the risks," said IMF Chief Economist Olivier Blanchard. "Only if governments move decisively on fiscal policy, financial repairs, and external rebalancing, can we hope for stronger and more robust recovery.

Europe and the United States could slip back into recession next year unless they quickly tackle economic problems that could infect the rest of the world, the International Monetary Fund said today.

The IMF said financial volatility had increased dramatically as investors worried about an escalating debt crisis in the Euro zone and a weakening US recovery.

Those two regions present the biggest risks to the global economic outlook, it said, warning that political gridlock could block remedial action. The fund also called for a more ambitious plan to lower Japan's public debt.

"Policy indecision has exacerbated uncertainty and added to financial strains, feeding back into the real economy," the IMF said in its latest World Economic Outlook report.