Family affair: fifty children and still feeling strong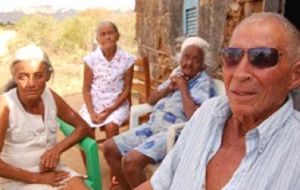 A 90-year-old retired peasant has fathered children with two wives, sister-in-law and mother-in-law in Brazil's Rio Grande do Norte state, the press reported on Sunday.

Luiz Costa de Oliveira, a resident of the municipality of Campo Grande, began his large family decades ago with his first wife.

After loosing his first wife who gave him 17 offspring, Oliveira begun a relationship with Maria Francisca da Silva who helped him care for the youngsters and also gave him another 17 children, reports Diario do Natal daily.

The sister of Maria Francisca and sister-in-law of Oliveira, Ozelita, used to stop frequently at the house to help with domestic duties, and along the way she, too, began a relation with Oliveira, giving birth to another 15 children.

Also present in this unusual family affair picture was the mother of both women, Francisca Maria, with whom Oliveira had yet another child.

In all, Oliveira had 17 children by his first wife, and then 33 more by the other three women, although not all the children are still alive.

The thing that God made best in the world was women" said the now elderly man, who has 100 grandchildren and 30 great-grandchildren.

Oliveira admitted he could have even more descendents "around here" without specifically knowing their relationship to him, because – he claimed – he has always enjoyed the company of women.

"I don't know the names of everyone, but I know that I have many children, grandchildren and scattered great-grandchildren" Oliveira, who has his huge family distributed in two homes, said.

Despite his advanced age, Oliveira, who has not smoked or drunk alcohol for 40 years, enjoys enviable health, has no aches or pains and says he misses the days he spent labouring as a young man on the farm and chasing women.