Fighting crime and changes in the cabinet demand Argentine voters, says poll
Friday, October 14th 2011 - 07:54 UTC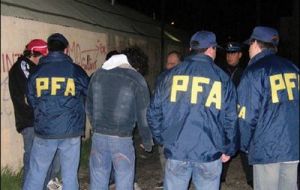 Eight out of ten voters believe that Argentine president Cristina Fernandez must make changes in her ministerial cabinet in her new government which would take off next December 10 if her re-election bid is supported as all public opinion polls indicate.

A majority of voters expect that the President and the ruling coalition will pay renewed attention to citizens' demands such as greater security (law and order) and at the same time is optimistic about the economic situation: they believe that the favourable context will be sustained during the next twelve months.

These are some of the main conclusions from a public opinion poll taken byPoliarquía with less than ten days to Election Day, October 23. Even when optimism about the economic situation is ample among the 1.400 interviewed for the poll, there are some shadows based on whether they are government or opposition supporters.

Regarding the new ministerial cabinet, 39% would like to see "many" changes while 40% would prefer 'some changes'. Three posts will see new faces if Cristina Fernandez is re-elected: these include Economy minister Amado Boudou, who is her ticket companion; cabinet chief Anibal Fernandez, who will be going to the Senate and Agriculture minister Julian Dominguez that will be sitting in the Lower House.

Perception varies according to the voter's adherence: 63% of opposition voters want "many changes" while a majority, 57% of CFK supporters would like to see "some changes". Among the main issues for the next government's agenda are: 31% greater combat on insecurity; 8% creating more jobs; and 7% reducing the number of social inclusion programs.

As to what should be retained, economic policy leads with 14% followed by employment level and more emphasis in education policies.

Regarding the situation of Argentina in the coming twelve months, opinions are overwhelmingly positive: 47% believe things will further improve; 27% things will remain as currently while 20% forecast a downfall.

"Overall Argentines are optimistic about the economic situation in 2012. However if you analyze percentages there is a great division almost in two halves: on the one side the optimistic who will vote for government and the more concerned who will opt for one of the opposition candidates", said Alejandro Catterberg, one of Poliarquia's directors.

This however does not impede people to think that some problems will persist: such is the case for 50% who forecast that 2012 will come with even higher inflation.

As to the current global turbulence and uncertainty it does not seem to concern Argentine voters: 53% say the international crisis will have little or no effect on the country; 27% believe it will have a significant influence and 16% that the volatility will hit Argentina real hard.

A close look at percentages also shows a clear division of loyalties; 75% who will vote for Cristina Fernandez believes the crisis won't impact on Argentina and 70% of voters for the opposition feel the global situation will have "a significant or very serious" influence.