'The role of the State' to be discusses in the Ibero-American summit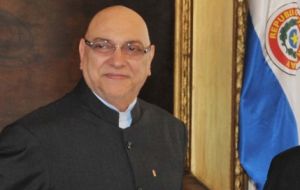 "State reform and development" will be driving force of the coming Ibero-American summit to take place next week, October 28/29 in Paraguay and already has the attendance confirmation of eighteen presidents, according to the organizers.

"Since the host country defines the main issue to be discussed, President (Fernando) Lugo said it was important that the leaders address an issue which is being reviewed in the region taking into account the different positions as to what role the State should play in the development of our countries", said Paraguayan ambassador Hugo Saguier Caballero, responsible for the organization of the event.

The ambassador said that in the last fifty years there have been significant changes as to what part should the State play in the development of countries.

"Decades ago all major companies belonged or were managed by the State but following the Washington consensus of the nineties, privatizations and free markets prevailed. Now the feeling is that the State should keep sovereignty over some companies considered crucial for development", said Saguier Cabral.

He added that in the last decade the State is back with a leading role and this is a phenomenon "that can be appreciated not only among Mercosur members but in other continents. Nevertheless this view is also questioned, so there is sufficient controversy as to make it an interesting discussion for the summit".

The opening of the Ibero-American summit is scheduled to take place Friday October 28 in the Paraguayan Central bank convention centre while the summit with the attendance of heads of government and heads of state is scheduled for the following day at the Conmebol, the spectacular building belonging to the South American Football associations.

However next Tuesday a set of special meetings and forums will take off at different technical levels with national coordinators in different commissions followed by the Foreign Affairs summit on Saturday.

Besides the eighteen presidents, other participants include the King of Spain and the heads of the Inter American Development Bank, multilateral organizations and private bankers, mostly from Europe.