Sarkozy to Cameron: "you hate the Euro so stop telling us what to do"
Monday, October 24th 2011 - 06:31 UTC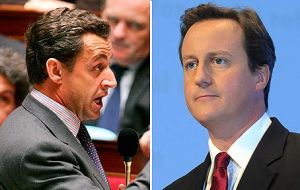 French President Nicolas Sarkozy launched a scathing attack on British Prime Minister David Cameron at Sunday's EU summit, saying he was "sick of him telling us what to do," Britain's press reported.

During talks in Brussels to resolve the Euro zone debt crisis, the French leader accused Cameron of "interfering in our meetings", newspapers The Guardian and The Daily Telegraph reported, citing diplomatic sources.

"We're sick of you criticising us and telling us what to do," Sarkozy reportedly told Cameron. "You say you hate the Euro, you didn't want to join and now you want to interfere in our meetings," he added.

Another newspaper, The Times, also reported that a row had erupted, but did not give exact details.

Tempers frayed over Sarkozy's insistence that only the 17 members of the Euro zone attend a bank rescue summit meeting hastily arranged for Wednesday, according to the Telegraph.

Cameron convinced those at the meeting that all 27 EU members should be invited, and newspapers reported on Monday that Cameron had cancelled his planned trips to New Zealand and Japan in order to attend.

Cameron earlier warned that countries outside the Euro zone risked being frozen out amid efforts for a pooled response to the crisis crippling the 17-nation single currency bloc.

"What you've got happening in Europe at the moment is Euro zone countries coming together recognising that they've got to do more things together and frankly it's in Britain's interest that they do sort out the problems they've got," said Cameron after the summit.

"But there is a danger ... that as this Euro zone coming together happens, there is a risk that those countries outside the Euro ... might see the Euro zone members starting to take decisions that affect the single market."

Cameron is under pressure at home as Euro-sceptic backbenchers within his own Conservative party look set to defy him in Monday's vote on an EU membership referendum.